Brausen, Leona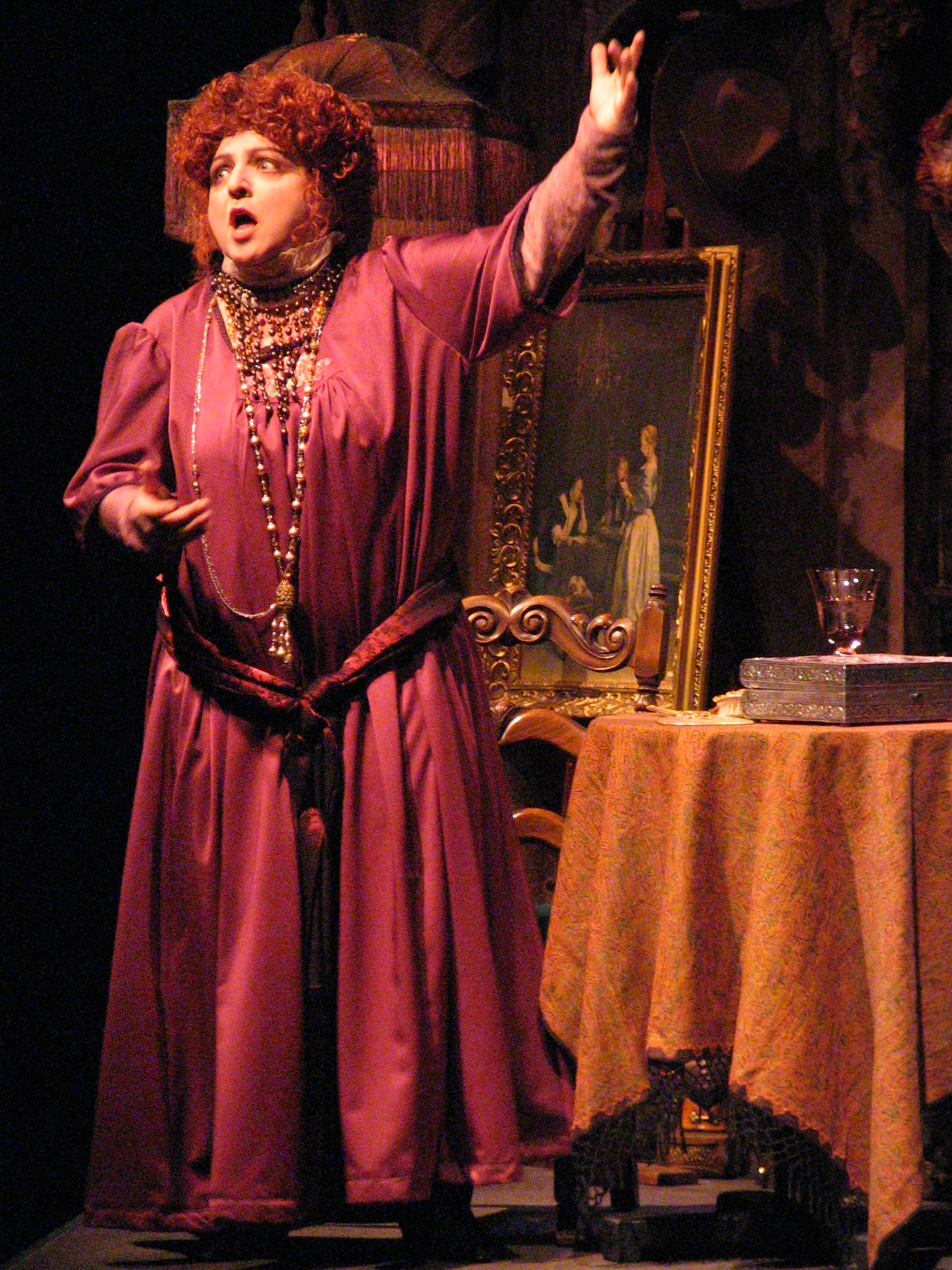 Leona Brausen as Sarah Bernhardt in At the Zenith of the Empire
Multi-talented actor, costume designer, playwright, based in Edmonton Alberta.
Leona Brausen is an Artistic Associate with Teatro La Quindicina, and has worked regularly with the company as actor and designer since its inception in 1982. She was also a member of Die-Nasty, the live improvised soap opera performed at the Varscona Theatre on Monday nights for the past seventeen years. She is co-creator (with Cathleen Rootsaert and Davina Stewart) and host of Hey Ladies, a live talk, game, magazine, infotainment show at the Roxy Theatre in Edmonton.
For Teatro La Quindicina, she has acted in several plays by Stewart Lemoine, including Pith!, The Vile Governess and Other Psychodramas, The Margin of the Sky, and At the Zenith of the Empire (in which she memorably performed the role of Sarah Bernhardt), and The Finest of Strangers (2018). All of these plays featured her costume designs. In 2014, she designed costumes for Lemoine's Whiplash Weekend, for which she won an Elizabeth Sterling Haynes Award, and for The Euphorians. Her costume designs also appeared in Lemoine's Witness to a Conga, For the Love of Cynthia, I Heard about Your Murder, and Shocker's Delight! (2017).
She has co-written and starred in Tunnels of Little Chicago, which explores the possible history of the tunnels beneath Moose Jaw, Saskatchewan, used by US mobsters for rum-running during Prohibition. She performed in House of Cats (2007) by Edmonton playwright Cathleen Rootsaert. In 2018, she played Lady Bracknell in Teatro's production of The Importance of Being Earnest. She portrays Gertrude Stein in the monthly improvised Gertrude and Alice at the Grindstone Comedy Club & Bistro in Edmonton. She is a consummate comic actor, with an expressive face and gestures.
For Shadow Theatre she has designed costumes for Sexy Laundry (2007) and Miss Teen (2019) by Michele Riml, Margaretís Museum, The Odd Couple, Boston Marriage, The Last Train, Slumberland Motel by Collin Doyle (2018), The Comedy Company by Neil Grahn (2018), and Vanya and Sonia and Masha ans Spike by Christopher Durang (2019).
She has also designed costumes for Theatre Network's productions of Excavations and All Clear by Eugene Stickland; and Perfect Pie by Judith Thompson
For Mayfield Dinner Theatre in Edmonton, she designed the costumes for 9 to 5 (2013), Hairspray(2014), Hair, Baskerville, The Last Resort, Don't Dress for Dinner, Deathtrap, and Henry and Alice Into the Wild. Her costumes for Back to the 80s Part 2 (2018) were imaginatively extravagant and entertaining.
In 2000 she won a Sterling Award for her costumes in Lemoineís The Hothouse Prince; in 2011, she won a Sterling Award for her costumes for Lemoine's The Ambassador's Wives; and in 2014 for Lemoine's Whiplash Weekend.
In March 2021, when theatres across Canada were closed by the Covid-19 pandemic, she created a tribute to Canadian women who inspire and excite her, in honour of International Women's Day, installing mannequins dressed as Viola Desmond, Emily Carr, Buffy Sainte Marie, and k.d.lang in the windows of the Varscona Theatre.
Profile by Anne Nothof, Athabasca University
Last updated 2021-03-08