Teatro La Quindicina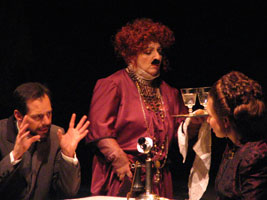 Theatre company, based in Edmonton Alberta, founded in 1982 by Stewart Lemoine and friends for a production of his first play, All These Heels at the Edmonton International Fringe Theatre Festival. It has produced a season of Lemoine's plays ever since; until 2007 the Company was under Lemoine's artistic direction.
The name is serendipitous: a cast member was reading Graham Greene's Travels with My Aunt at the time. In her colourful, mysterious past, the aunt had travelled with a high-class bordello called "La Quindicina," the Italian word for "fifteen," referring to the group's bi-monthly itinerary. The bordello was often mistaken for a theatre company. Lemoine's company confirmed the association by adding "Teatro" to "La Quindicina" and used it on the Fringe application form. The name has stuck. Teatro has been resident in the Varscona Theatre in Old Strathcona since 1994.
Teatro La Quindicina comprises an ensemble of Edmonton actors and theatre practitioners who have a long-term association with Lemoine and his plays, including: Leona Brausen (since 1982), Davina Stewart (since 1986), Jeff Haslam (since 1988), Cathy Derkach (1988), Julien Arnold (1990), Andrew MacDonald-Smith, Rachel Bowron, and Jenny McKillop. The Company also comprises other actors from the Edmonton community and further afield, such as Shannon Blanchet, Belinda Cornish, Ron Pederson, Sheri Somerville, Jocelyn Ahlf, Farren Timoteo, and Cathleen Rootsaert. Leona Brausen also designs the imaginative costumes for many productions.
Lemoine writes his plays specifically for members of the Company, although Teatro occasionally produces works by other playwrights, including Rope by Patrick Hamilton (1993), Anatol by Arthur Schnitzler, Hedda Gabler by Henrik Ibsen, House of Cats (2007) by Kathleen Rootsaert, and Thrubwell's Pies (2008) by Belinda Cornish.
In 2007, Jeff Haslam became Artistic Director of the company so that Lemoine could focus on playwriting and directing. The season runs from May to October, included a play for the Edmonton Fringe Festival. In 2012, Teatro celebrated its 30th anniversary with a new play by Lemoine, entitled The Adulteress, a revival of A Grand Time in the Rapids, the premiere of Angels on Horseback by Jocelyn Ahlf and Lemoine, and a revival of Pith! with a new cast.
In 2020 Teatro announced the appointment of Belinda Cornish and Andrew MacDonald-Smith as co-Artistic Producers, to bring more focus on inclusiveness and the mentoring of new voices.
Website:www.theatroQ.com
Last updated 2021-01-22