Haslam, Jeff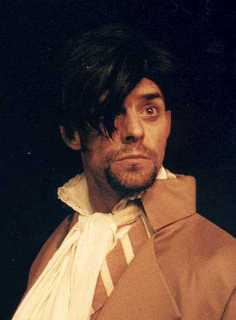 Jeff Haslam
Alberta-based actor and director, born in Calgary, March 15th, 1964.
Jeff Haslam is best known as a long-time member of Edmonton's Teatro La Quindicina troupe, performing the works of playwright Stewart Lemoine since 1988, including Cocktails at Pam's, Damp Fury, Evelyn Strange, Shockers Delight!, Pith!, Fever-Land, Connie in Egypt, Happy Toes, A Rocky Night for his Nibs, Eros and the Itchy Ant (2002, 2006, 2013), At the Zenith of the Empire (2005), Mother of the Year, The Oculist's Holiday (2009), Witness to a Conga (2010), The Scent of Compulsion, Mrs. Lindeman Proposes, A Grand Time in the Rapids, Angels on Horseback (2012), The Nutcracker Unhinged, Cause and Effect (2013), St. Albert (2015), The Finest of Strangers (2018).
He also directed the 2008 premiere of Thrubwell's Pies by Belinda Cornish, and The Importance of Being Earnest (2018) for Teatro, and has designed sets for several Lemoine productions.
Haslam has written plays for and with Teatro, including Lucy and Mr. Plate, with Jana O'Connor and Lemoine (2014), in which he plays a regular guy who is curious about the bizarre world around him, without being judgemental -- the archetypal "straight man." The play revisits the character Haslam conceived for the Edmonton International Fringe Festival in 2001 in Citizen Plate. It builds on his considerable improv skills, as he enacts the diverse and disastrous boyfriends the leading lady accumulates, and loses -- as well as her loyal friend and counsellor, Ned.
Haslam is a founding member of the Edmonton improv company, Die-Nasty, which creates an extended wacky soap opera scenario around a central theme every Monday night during the theatre season. He also performs in its annual fundraising event The Die-Nasty Soap-a-thon, and has performed three times in the Soapathon in London, England.
From 2007 to 2020, Haslam was been Artistic Director of Teatro La Quindicina. He was also Program Director for Teatro's home, the Varscona Theatre, and has produced, hosted and performed in many theatre-related events there. He was also Chair of the Edmonton Arts Council.
He has worked at most of Edmonton's theatres, including the Citadel Theatre (Picasso at the Lapin Agile, Twelfth Night, Hello Dolly and Little Shop of Horrors 2000), as well as with Alberta playwrights Marty Chan, Conni Massing, Lyle Victor Albert, Raymond Storey and David Belke. In October, 2001, he appeared in the Workshop West Theatre production of Mesa by Doug Curtis. In 2003, he played a suave, articulate hitman in Workshop West's production of 17 Dogs by Ron Chambers. In 2009, he appeared in Poster Boys by Michel Riml at Theatre Network, and in 2010, in Dial M for Murder at the Mayfield Dinner Theatre in Edmonton.
He has won five Elizabeth Sterling Haynes Awards (Sterling Awards), for performances in Burn This, 2-2-Tango, Little Shop of Horrors, Citizen Plate, and Witness to a Conga.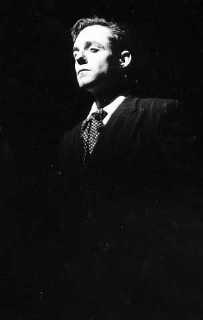 Jeff Haslam in Die-Nasty (1997 edition)
He has performed in theatres across Canada including One Yellow Rabbit, Vancouver Playhouse and Factory Theatre among others.
He resides in Edmonton. He told the Edmonton Express, in 1999, why he stays in Edmonton, "...because of the community of artists who have become family, and to leave them in deference to my own career would be pretty catastrophic. It's an amazing world to be part of. I could never leave. I love it here."
Jeff Haslam has a loyal audience following for his astute sense of comic timing, and his portraits of devious gentlemen and questing anti-heroes.
Profile by Anne Nothof, Athabasca University
Last updated 2021-01-23