Vancouver Playhouse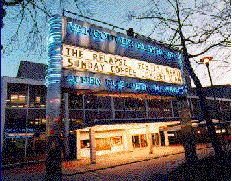 Vancouver Playhouse
Company in Vancouver, British Columbia, founded in 1963 with Michael Johnston as the Managing Producer, and with a mandate to present Canadian plays. The Vancouver Playhouse Theatre, in which it performed, was adjacent to the Queen Elizabeth Theatre and seated 655.
The first production in 1963 was The Hostage by Brendan Behan, directed by Malcolm Black. Among the many notable works produced by Vancouver Playhouse were the world premiere of George Ryga's The Ecstasy of Rita Joe (1967) and the Canadian premiere of Beverley Simons' Crabdance (1972). Productions in the 1999/2000 season included John Steinbeck's Of Mice and Men; Jim Cartwright's The Rise and Fall of Little Voice; Oliver Goldsmith's She Stoops to Conquer; and Jason Sherman's Patience. The Playhouse's 1997 production of The Overcoat (directed by Morris Panych) toured the nation in 2000.
The Playhouse celebrated its 40th anniversary in 2002/2003 with the following playbill: The Far Side of the Moon by Robert Lepage, Proof by David Auburn, Fiddler on the Roof, Mary's Wedding by Stephen Massicotte, Romeo and Juliet, and The Caretaker.
Among the many Canadian plays it has produced were: The Coronation Voyage by Michel Marc Bouchard (2000-01); The Drawer Boy by Michael Healey (2001-02); One Last Kiss by Aaron Bushkowsky; Trying by Joanna McClelland Glass (2004-05); Vigil by Morris Panych; Where the Blood Mixes by Kevin Loring (2007-08), and Toronto, Mississippi by Joan MacLeod (2009).
Artistic directors have included Malcolm Black (1964-67), Joy Coghill (1967-69), David Gardner (1969-71), Paxton Whitehead (1971-73), Christopher Newton (1973-79), Walter Learning (1982-87), Guy Sprung (1987-88), Larry Lillo (1989-92), Susan Cox (1993-1997), Glynis Leyshon (1997-2008), and Max Reimer (2009-2012).
On March 9, 2012, the Playhouse board chair announced that the Company was ceasing operations, due to a large debt load. The last production at the Playhouse was Catalyst Theatre's The Hunchback. In 2019, however, the theatre space was used for an epic multi-media production of Daniel Brooks' The Full Light of Day by the Electric Company Theatre.
Profile by Anne Nothof, Athabasca University
Last updated 2020-06-12