Sprung, Guy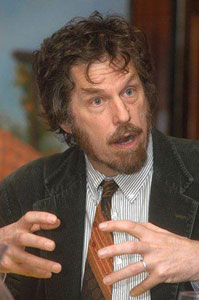 Guy Sprung
Director, producer, playwright, dramaturg, teacher, born in Ottawa, Ontario, April 17, 1947. He studied at McGill University, and was president of the McGill Players' Club, for which he directed over forty productions. Following his graduation, he was artistic director of the Schiller Theatre in Berlin, and founded Half Moon Theatre in London, England. He also founded "Dream in High Park", a free outdoor summer Shakespeare festival in Toronto's High Park.
Among the many productions he has helmed are the premieres of Sharon Pollock's Doc and Fair Liberty's Call; David Fennario's Balconville and Nothing to Lose; Rick Salutin's Les Canadiens; and the revival of Marianne Ackerman's L'Affaire Tartuffe.
In 1989 he directed a production of Shakespeare's A Midsummer Night's Dream for the Pushkin Theatre in Russia.
Guy Sprung has also directed at the Royal Alexandra Theatre (Tom Stoppard's The Real Thing, starring RH Thomson) and at Toronto Free Theatre (Hamlet, also with Thomson) where he was Artistic Director for seven years from 1982 until its merger with Centrestage (to become Canadian Stage).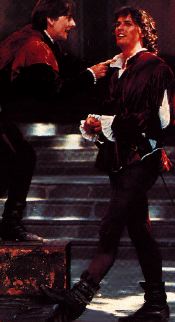 Guy Sprung's 1984 Shakespeare-in-the-Park production of
Romeo and Juliet
with
Paul Gross
(r) in the lead role.
From 1997 to February 2021, he was Artistic Director of Infinitheatre. Among other works, he directed the company's October, 1999 production of Samuel Beckett's Endgame, staging the work in an abandoned foundry in the city's Griffintown district. In 2001, a bilingual version was presented at the Cairo International Festival of Experimental Theatre.
More recently, he directed the company's bilingual production of Food/Bouffe by Byron Ayanoglu. His play Death and Taxes was co-produced with the Saidye Bronfman Centre in 2005. In April 2018, the first part of his epic play Fight On!, about the involvement of Charles Dickens' son in the "settlement" of the Canadian West during his time in the North West Mounted Police from 1874-1885, opened at Infinitheatre. Drew Hayden Taylor provided ironic commentary during the performance on the loss of land, languages, and cultural heritage of Canada's First Nations on Turtle Island.
Gaëtan Charlebois wrote in Montreal's Hour Magazine that "Sprung is... at the forefront of the promotion of new authors and plays in this country."
Guy Sprung has taught at the National Theatre School of Canada and the Conservatoire d'Art Dramatique de Montréal. He writes book reviews for the Montreal Gazette and lives in Montreal, Quebec. He has three children.
His productions are marked by a vivid imagination and a profound understanding of the dynamics of text.
Profile by Gaetan Charlebois.
Last updated 2021-10-29