Royal Alexandra Theatre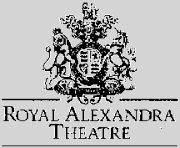 Opulent theatre in Toronto, Ontario, designed by John M. Lyle and completed in 1907. It was named for Edward VII's wife. It has a seating capacity of 1497 (reduced from 1525 when the seats were enlarged). The first production to appear on its stage was a pantomime: Top o' the World.
It was owned by a group of businessmen and was home for several stock companies, including the Edward H. Robins Players (the biggest stock company in Canada) during WWI. After the war, it served as a Broadway tryout house, and venue for touring companies and large-scale musicals. It was the continent's first "fireproof" theatre and its first air-conditioned one as well. It served many of North America's and Britain's theatre luminaries including the Barrymores, Helen Hayes, John Gielgud, Ralph Richardson, Lunt and Fontanne and Paul Robeson. It has also hosted ballet and opera productions.
In 1963 Ed Mirvish bought and restored the building. Mirvish's purchase and subsequent use of the building transformed the life of Canadian theatre. It served as a touring house for many large shows but was also the site for some Canadian works. Mirvish boasted that the house was always in operation, 52 weeks a year.
In 1986, Ed's son David Mirvish became the house's executive producer and began co-producing shows with companies like the Stratford Festival, Shaw Festival, Manitoba Theatre Centre and Citadel Theatre to bring these companies' works to Toronto. The Royal Alex staged Tomson Highway's Dry Lips Oughta Move to Kapuskasing, the first First Nation's play to receive a commercial production.
The Mirvishes began to use the house as a venue for the so-called mega-musicals, the first being Les MisÚrables which opened in 1989.
The Canadian actor closely linked to the Royal Alex was Barbara Hamilton, who began her career there, played more often than any other actor there, and ended her career there, shortly before her death, in the mega-musical Crazy For You. The venue has also seen performances by Helen Hayes, John Gielgud, Edith Evans, Edith Piaf, Paul Robeson, the Barrymores, Fanny Brice, Al Jolson, Peter O'Toole, Jessica Tandy, Ruth Gordon, Maggie Smith, Maurice Evans, Bert Lahr and and Alan Bates, in over 3000 productions.
An archival collection on this subject is available at the LW Conolly Theatre Archives at the University of Guelph, Ontario.
Profile by Gaetan Charlebois. Additional information provided by Lindy Cooksey.
Last updated 2010-12-21