Hamilton, Barbara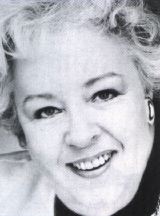 Barbara Hamilton
Comic actor known across Canada for her performances on stage and television. Barbara Hamilton was born in Toronto, Ontario in 1921; died in Toronto in 1996.
She was the daughter of a retail-display manufacturer, who disapproved of her choice of career calling it "a vagabond's life." Her mother died when she was three. Barbara Hamilton was educated in Cobourg, and attended the University of Toronto. She began her acting career at Hart House Theatre before performing professionally in a production of Joseph Kesselring's Arsenic and Old Lace at the Royal Alexandra Theatre (where she would subsequently perform in thirteen more productions, including her last role in the musical theatre piece, Crazy for You).
She toured with the Canadian Players, and then worked for three seasons with a stock company in Bermuda before joining the cast of the popular revue, Spring Thaw in 1958, with, among others, Dave Broadfoot. She established a reputation as "The Funniest Woman in Canada" during her seven-year association with the revue, and starred in her own revue, That Hamilton Woman at the Crest Theatre.
She went on to perform across the country in the modern and classical repertory, before stealing the hearts of the nation as the cool and aloof Marilla Cuthbert in the world premiere of the musical Anne of Green Gables at the Charlottetown Festival. She performed the role in the London production as well and won the drama critics' award for best actress.
Her private life was nearly as theatrical as the roles she played; she was romantically attached to Wayne Lonergan for fourteen years until his death in 1986. Lonergan, a cause celebre in New York high society, had served twenty years in prison for killing his wife, a New York heiress, in 1944.
The Barbara Hamilton Award For Excellence in the Performing Arts was inaugurated in her honour in 1996, given to Canadian performers who have demonstrated the "excellence and professionalism in the performing arts" that was the trademark of Barbara Hamilton's career.
Profile by Gaetan Charlebois.
Last updated 2021-01-20