Charlottetown Festival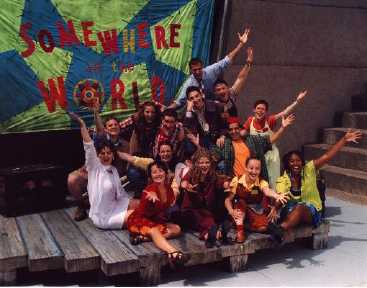 Somewhere in the World, by Brian Hill and Neil Bartram, a Charlottetown Festival staple, performed by the Confederation Centre Young Company (photo: Barrett & Mackay)
Annual festival of Canadian theatre (mainly musical theatre) staged at the Confederation Centre of the Arts in Charlottetown, Prince Edward Island. In 1977 the Festival opened a second stage for cabaret/revue style programming.
It was founded in 1965 by Mavor Moore, and until 2023 the centrepiece of the Festival has always been an annual production of Anne of Green Gables, adapted from Lucy Maud Montgomery's 1908 novel. The first season included Anne..., Spring Thaw, Wayne and Shuster, and Laugh With Leacock.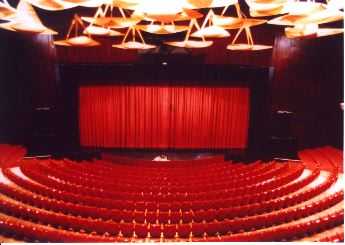 The Confederation Centre (photo: Barrett & Mackay)
The Festival has been the source of many made-in-Canada musicals, including Fauntleroy, Kronberg: 1582 (which went on to Broadway and directed by Gower Champion as Rock-A-Bye Hamlet), The Dumbells, Turvey and Johnny Belinda among them.
After a series of downswings, including losing grant money for deciding to stage non-Canadian musicals (including Guys and Dolls in 1995), in 1996 the Festival staged only Anne.... However, in 1997 the revival of Johnny Belinda turned into a smash hit. In 1998 the company announced that in the 1999 season it would stage the first new musical since 1992, Emily, an adaptation of Emily of New Moon, Emily Climbs and Emily's Quest, all also by L.M. Montgomery. The run of the new work proved to be an enormous success exceeding box office expectations by twenty-five per cent.
In 2011, Cathy Elliott, a member of the Sipekne'katik Mi'kmaq First Nation in central Nova Scotia, directed her all-Indigenous musical, The Talking Stick, commissioned by the Charlottetown Festival for the Young People's Company, and performed by First Nations youth.
Other productions of Canadian plays include: Yesterday the Children were Dancing (1967) by Gratien Gelinas; Salt-Water Moon (1986, 1987, 2007) by David French; Billy Bishop Goes to War (1987) by John Gray and Eric Peterson; 2 Pianos, 4 Hands (1997, 2001) by Richard Greenblatt and Ted Dykstra; Not Wanted on the Voyage (2000) by Timothy Findley; Fire (2002) by Paul Ledoux and Ted Dykstra; Sexy Laundry (2010) by Michele Riml; The Last Resort (2010) by Leslie Arden and Norm Foster; Dear Johnny Deere by Ken Cameron (2013); and the new musical Evangeline by Ted Dykstra (2013), remounted in 2015 in collaboration with Citadel Theatre. The 2020 Festival was cancelled because of the Covid-19 pandemic, which shut theatres across Canada and the world.
For the first time in its history, Anne of Green Gables was not produced at the Charlottetown Festival in the summer of 2021, a decision necessitated by the ongoing pandemic which restricted audience size. Three Maritime plays were featured: Between Breaths by Robert Chafe; the premiere of Dear Rita, a cabaret musical about Rita MacNeil, with script by Lindsay Kyte and musical arrangement by Mike Ross; and Old Stock: A Refugee Love Story, a 2b Theatre Company production, with script by Hannah Moscovitch.
In 2022, the Artistic director Adam Brazier decided that Anne... would be produced every other year, leaving alternate years for new Canadian musicals. In 2022, the Festival premiered Tell Tale Harbour, a musical adaptation of the film The Grand Seduction. The play was created by Brazier with Bob Foster, Edward Riche, and Alan Doyle (formerly of Great Big Sea). It proved to be very popular with local and tourist audiences, and went on a six-city tour of Newfoundland and Labrador.
Director of New Play Development and Dramaturg from 1998 to to 2000 was Jackie Maxwell. Artistic directors have included Alan Lund, Walter Learning, Jacques Lemay, Duncan McIntosh, and Anne Allan (2004-2014). The current artistic director is Adam Brazier.
Sources include: Robert Crew. "Irish-born director Maxwell to take the helm at Shaw." Toronto Star, 12 July 2001.
Additional information provided by Laurie Murphy and Jeffrey Lund.
Website: www.confederationcentre.com
Profile by Gaetan Charlebois. Updated by Anne Nothof
Last updated 2022-12-21