Moore, Mavor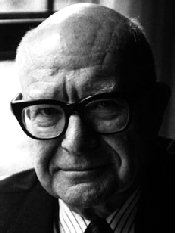 Mavor Moore
Playwright, actor, producer, director, broadcaster, who contributed significantly to the beginnings of Canadian theatre. He was born in Toronto, Ontario, March 8, 1919, the son of Francis John and Dora Mavor Moore. He died December 21, 2006.
Mavor Moore produced his first play at 10, began playwriting at 11 and made his acting debut on radio at 14.
He was educated at the University of Toronto and worked for CBC radio as a producer before serving in WWII in London in the psychological warfare section. After returning to Toronto, he helped his mother with the formation of the New Play Society, which encouraged the production of new Canadian plays, and in 1948 began the infamous satirical revue, Spring Thaw, which ran annually until 1971, and became the longest running annual topical revue in the world.
Mavor Moore acted on stages across the country as well as on radio, in television and film.
He was a governor of the first Stratford Festival, founder of the Charlottetown Festival, founding general director of the St. Lawrence Centre, first chairman of the Guild of Canadian Playwrights, first chief producer for CBC television (training and hiring, before the network began; adapting many plays for television including Gratien Gelinas' Hier, les enfants dansaient(Yesterday The Children were Dancing) and writing many others), a founding governor of the National Theatre School of Canada, advisor to the National Arts Centre, Theatre Calgary, Vancouver Playhouse and the Neptune Theatre (among many other houses), served as chairman of the Canada Council during a recession (1979-83). From 1970 to 1984 he was a drama professor at York University in Toronto, and until his death Professor Emeritus at the University of Victoria.
He was the author of over 100 plays, and he wrote the libretti for Harry Somers' opera Louis Riel and for Louis Applebaum's Erehwon (performed at Victoria Opera, March, 2000). His play, A Christmas Carol, The Musical is a Christmas tradition in theatres across the country.
He was named to the Order of Canada in 1973. In 1984, he received the Toronto Drama Bench Award for Distinguished Contribution to Canadian Theatre. He was awarded a Molson Prize in 1986, and a Governor Generalís Award in 1999. He has honorary degrees from five universities.
His memoir, Reinventing Myself, was published by Stoddart in 1994. He believed that the first rule of art is to get it done. Who pays for it hardly matters as long as somebody does. The most exciting challenge in life is to break new ground.
Readings: Allan Boss. Identifying Mavor Moore. Toronto: Playwrights Canada P, 2011. (a critical biography)
Allan Boss. Discovering Mavor Moore. Toronto: Playwrights Canada P, 2013 (anthology of eight plays)
Mary Jane Miller. Rewind and Search: Conversations with makers and decision makers at the CBC. Toronto: McGill Queens, 1996
Profile by Gaetan Charlebois. Additional information provided by Colin Plant, Mary Jane Miller, and Anne Nothof.
Last updated 2020-07-17