Theatre Calgary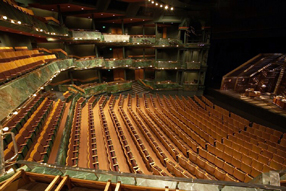 Interior of the Max Bell Theatre, Theatre Calgary. Photo by Trudie Lee.
Theatre Calgary, founded in 1968, is the oldest professional theatre company in Calgary, Alberta. Its origins are in the merger of "Workshop 14," an amateur theatre company formed in the 1940s by the students of Dr. Betty Mitchell, drama teacher at Calgary's Western Canada High School; and "The Musicians' and Actors' Club" (MAC), comprising Calgary business people, staging short plays and excerpts from musicals in the old Isis movie house in the 1960s. Under the direction of Kenneth Dyba, playwright and novelist, MAC 14 staged its productions in a converted tractor house, renamed the QR Centre.
The first Artistic Director of the renamed Theatre Calgary was Christopher Newton, who staged the first seasons in the Betty Mitchell Theatre (1968-1971). His opening ambitious and eclectic season of seven plays included The Odd Couple, The Alchemist (with music by the Fifth Dimension), Gaslight, and James Reaney's The Three Desks (1968). Subsequently, Newton staged his own plays, You Stay Here, The Rest Come Along With Me and Trip. He invited actor friends and colleagues from Stratford, such as William Hutt, Eric Donkin, and Frances Hyland.
Newton was followed, for one season, by Clarke Rogers, and then Harold G. Baldridge until 1978. Baldridge directed the premiere production of Walsh (1973) by Sharon Pollock; and The Condemned of Altoona, starring Douglas Campbell. Under Baldridge's tenure, Frances Hyland directed J. M. Synge's Playboy of the Western World. He left Calgary in 1981 to become Executive Director of the Neighbourhood Playhouse School of Theatre in New York.
Rick McNair served as AD from 1978 to 1984, encouraging the production of Canadian plays and forming a travelling theatre troupe which brought plays to schools in Western Canada. McNair commissioned and produced an adaptation of Robert Kroetsch's novel, The Words of My Roaring, and of W.O. Mitchell's stories, The Black Bonspiel of Wullie MacCrimmon (1979) and The Kite(1981). He also directed John Murrell's Farther West (1982), and premieres of Pollock's Whiskey Six Cadenza(1983), and Doc (1984). Sharon Pollock then assumed the position of AD for three months, resigning after a difference of opinion with the board over the prerogatives of artistic direction
In 1985, Theatre Calgary relocated to the Max Bell Theatre in the Epcor Centre for the Performing Arts (renamed "Arts Commons" in 2014) - a 750-seat theatre with an adjustable proscenium arch, and with no seat further than sixty feet from the stage. Artistic Director, Martin Kinch (1985 to 1991) introduced George Walker's plays to Calgary, and hired Alberta writer, Gordon Pengilly, as playwright-in-residence. Brian Rintoul was AD until 1996, followed by Ian Prinsloo. Dennis Garnhum was AD from September 2005 to 2016. During his eleven season tenure, Theatre Calgary produced seven world premieres. Associate Artistic Director Shari Wattling was named Interim Artistic Director, effective September 12, 2016. In April 2018, Stafford Arima commenced his tenure as Artistic Director. Born in Toronto, and educated at York University, he has worked in New York and elsewhere in the US for twenty years, directing musical theatre.
The mission statement of Theatre Calgary is "to entertain, challenge, and enlighten our diverse audience with plays produced from the Canadian and international repertoires; to develop and nurture the Calgary theatrical community by engaging local artists, designers, and technicians to participate in creating stories relevant to Calgarians."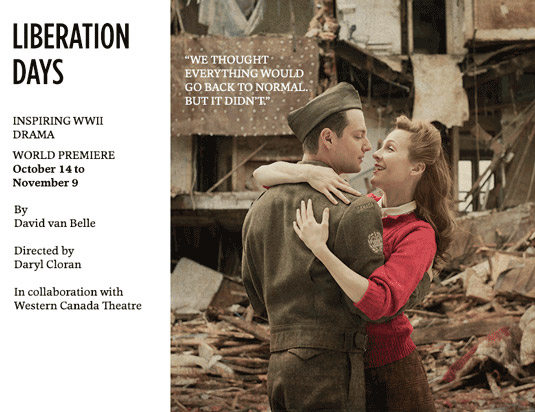 Typically Theatre Calgary produces one piece of musical theatre each season, such as Camelot (2000), and one Canadian play, such as Fire by Paul Ledoux and David Young. In 2014, it co-produced with Western Canada Theatre Company the premiere of Liberation Days by David Van Belle (dir. Daryl Cloran). Set in a small Dutch town at the end of World War II, it shows the positive and negative personal consequences of liberation from the Nazis by Canadian soldiers. In May 2015, Theatre Calgary produced Dear Johnny Deere, a highly entertaining musical based on the songs of Fred Eaglesmith by Ken Cameron, directed by Eric Coates with the original cast from the Blyth Festival premiere. In September, 2015, it launched the Canadian premiere of The Shoplifters by Morris Panych (dir. Haysam Kadri), an absurdist comedy which debates the morality of individual and corporate theft. Theatre Calgary mounted an outstanding production of The Crucible by Arthur Miller in October, 2015, designed by Cameron Porteous, and directed by RH Thomson, with strong performances by Vanessa Sabourin as Elizabeth Proctor, Karl H. Sine as John Proctor, and Stephen Hair as Danforth.
To celebrate its 50th anniversary, Theatre Calgary announced a strong 2017-18 season of plays, including the premiere of Sharon Pollock's latest work, Blow Wind High Water, about the consequences to a family of the 2016 Calgary flood; Sisters: The Musical, adapted by Rene Richard Cyr from Les Belles-soeurs by Michel Tremblay; Twelfth Night, designed by the Old Trout Puppet Workshop for the National Arts Centre (dir. Jillian Keiley); and Onegin, a new musical commissioned and premiered by Arts Club Theatre based on Pushkin's poem by Amiel Gladstone and Veda Hille.
The 2018/19 season included the premiere of Honour Beat by First Nations playwright, Tara Beagan, with Monique Mojica as a daughter visiting her dying mother and reconnecting with a fraught family history. The 2019/20 season included the musical The Louder We Get by Kent Staines (book) and Colleen Douncey (music), directed by Lonny Price, a revised version of Prom Queen that premiered at the Segal Centre for Performing Arts in 2016. From March 2020, Theatre Calgary has been closed to live audiences, due to the Covid-19 pandemic, and has moved to digital, on-line entertainment.
Website: www.theatrecalgary.com
Sources: Joyce Doolittle. "Theatre Calgary," Oxford Companion to Canadian Theatre, and Theatre Calgary website.
Profile by Anne Nothof, Athabasca University
Last updated 2021-04-09