Old Trout Puppet Workshop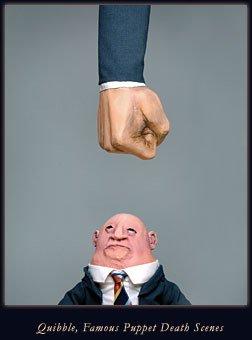 Puppet theatre company, based in Calgary Alberta. It was initiated by a group of expatriate Albertans who returned from exile in Eastern Canada to the Palmer family ranch in southern Alberta in 1999 to work in "intense collaborative isolation" (website). The original Trouts ensemble included Peter Balkwill, Pityu Kenderes, Bobby Hall, Steve Pierce, and Judd Palmer (writer/illustrator). Current members are Peter Balkwill, Pityu Kenderes, Cimmeron Meyer and Judd Palmer. The name of the company references a large fish which inhabited the bottom of the pond at the farm.
They have developed an allegorical and absurdist style in which philosophical debate is embodied in an array of grotesque Monty Pythonesque characters -- puppets that they inhabit with their own bodies.
The Unlikely Birth of Istvan (2000) is an absurdist creation myth. Beowulf, a Viking Puppet Opera (produced by One Yellow Rabbit 2002), enacts the Anglo-Saxon epic poem as a nightmare, with a feral Beowulf who attempts to save the world from the evil monster Grendel, accompanied by a chorus of singing helmeted girls. The Last Supper of Antonin Careme (OYR's High Performance Rodeo 2004) investigates religious and social revolution in terms of the culinary art of a famous 18th century French chef. Pinocchio (2004) was commissioned by Alberta Theatre Projects and toured to Magnetic North Theatre Festival in Ottawa (2005). It won three Betty Mitchell Awards: Outstanding Lighting Design, Outstanding Set and Outstanding Production of 2004-2005. To the horror of the audience, Pinocchio kills the cricket – as in the original story.
Famous Puppet Death Scenes (2006) – "a veritable feast of puppet annihilation" -- enacts a series of allegedly classic puppet plays, "which allow the Trouts to dabble in — and send up — different theatrical styles, from the Victorian morality tale to the bleak, Sean O'Casey-type Irish domestic drama to the kind of excruciatingly slow and uneventful spectacle usually identified with avant-garde director Robert Wilson" (Martin Morrow, "Lethally funny: The Old Trout Puppet Workshop laughs in the face of death." CBCNews.ca 24 Oct 2007). Thirty-two of the fifty-three puppets in the show are hammered by the fickle fist of fate. Famous Puppet Death Scenes has toured across Canada and the United States for two years.
The Erotic Anguish of Don Juan (ATP, March 2009, dir. Vanessa Porteous, with Duval Lang as Don Juan) is anti-moralistic take on the story of Don Juan. Liberated from hell by his demonic tormenters, Don Juan makes a convincing case for loving everyone, despite being constrained by an armoured chastity belt.
In 2012, Old Trout launched IngoraNce at Theatre Network, an historical hypothesis on the origins and nature of happiness, beginning with cave man and woman, and featuring happy-faced yellow balloons which frequently are punctured. It is a collective creation, with input from web and blog contributors.
Ghost Opera (Banff Centre for the Arts 24 May 2019) is based on a Greek ghost story by Pliny the Younger: "A philosopher buys a house that turns out to be haunted. Unlike the former inhabitants, who had all been driven to suicide or madness by this restless spectre, the philosopher is not frightened. He eventually learns that the ghost is simply trying to show where his or her physical bones had been stashed by a murderer centuries earlier" (Eric Volmers, Calgary Herald 17 May 19). The composer is Veronika Krausas, and librettist is novelist Andre Alexis. Performers are Calgary Opera emerging artists.
The Trouts also work in television, film, and music videos.
website: http://theoldtrouts.org
Anne Nothof, Athabasca University
Last updated 2019-06-03