One Yellow Rabbit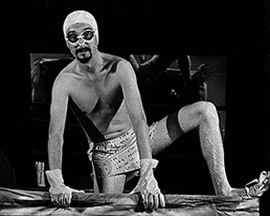 One Yellow Rabbit co-founder Michael Green
in an early production of the company,
Changing Bodies (1986)
(Photo by Heather Elton)
Alternative and Experimental Theatre company, based in Calgary, Alberta, founded by Michael Green and Blake Brooker in 1982. The current Artistic Director is Blake Brooker. Denise Clarke is Associate Artist; Andy Curtis is Ensemble Artist.
Its first production was Leonardo's Last Supper by English playwright, Peter Barnes. Its first creation was Juggler on a Drum by Kirk Miles and Gillian Raby (1983).
The Company's approach is transgressive and multi-disciplinary and to this end it has performed works like John Murrell's Death in New Orleans (for which it won a Scotsman Fringe First Award at the 1998 Edinburgh Fringe Festival); Brad Fraser's The Ugly Man; Ionesco's Exit the King and Permission. Company's "adapted" Edward Albee's Who's Afraid of Virginia Woolf after it was refused permission to perform the original. In effect OYR granted itself permission. In February 1999, it presented Linda Gaboriau's translation of Daniel Danis's Le chant du dire-dire/Thunderstruck, and in November, 1999, Vivienne Laxdal's These Girls.
Other productions include Somalia Yellow, Doing Leonard Cohen, Hunger's Brides, So Low, Mata Hari, Alien Bait , Conniption Cabaret, Serpent Kills, Naked West, Dance Freak, CD Dance, Breeder, Ilsa Queen of the Nazi Love Camp, Dreams of a Drunken Quaker, The Land the Animals, Touch, Lives of the Saints, Erotic Irony, Tears of a Dinosaur, Rembrandt Brown, and Changing Bodies. In 2000, OYR brought Thunderstruck to the Edinburgh Fringe Festival.
For thirty-six years, the Company has produced the High Performance Rodeo, an annual festival of new and experimental performance theatre. Productions are usually performed in the Big Secret Theatre in Calgary's Arts Commons.
The Toronto Star wrote of OYB, "[They are everything] theatre should be: daring, dangerous and disturbing."
The Company is funded by federal, provincial and municipal organizations and through ticket sales and fund-raising.
Website: www.oyr.org/
Further reading: Martin Morrow. Wild Theatre: The History of One Yellow Rabbit. Banff: Banff Centre Press, 2003.
Last updated 2022-05-10