Fraser, Brad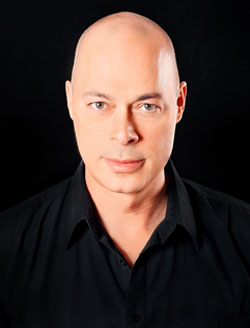 Brad Fraser
Outspoken queer playwright born in Edmonton, Alberta in 1959 to teenage parents. Brad Fraser's early years were spent in a succession of northern Alberta and British Columbia towns, where his abusive father worked in construction. He studied performing arts at Victoria Composite High School in Edmonton, and attended the Playwrites Colony at the Banff Centre for the Arts funded by writing awards. There he was mentored by Sharon Pollock, who had a strong influence on his work. His most profound early experience of theatre was at the Citadel Theatre during its inaugural season in the new space: Peter Schaffer's Equus.
His play about teenagers living on the margins, entitled Mutants, was produced by Edmonton's courageous amateur company, the Walterdale Theatre in 1980, where he had worked as a volunteer for several seasons, and acted the role of Verezzi in Zastrozzi by George F. Walker.
At the age of twenty-one Fraser wrote Wolfboy for Paul Thompson's Theatre Passe Muraille. The 1984 production featured Keanu Reeves as Bernie and was directed by John Palmer. His Grand Guignol work, Chainsaw Love was a hit at the Edmonton Fringe Festival (dir. Fraser, with Kate Newby as Donna the Dead). Young Art, a based on the Arthurian legend, was informed by Fraser's fondness for comic books and video games, and infused with magic and marvels.
Brad Fraser's Unidentified Human Remains and the True Nature of Love (Alberta Theatre Projects playRites Festival, directed by Bob White, 1989) startled critics and audiences with its candid and graphic portrayal of sex and violence in a dysfunctional and dangerous Edmonton environment. It was subsequently produced by Workshop West Theatre in 1990, directed by Fraser, with Kate Newby as Candy. The work became a sensation, playing across the country. The Crow's Theatre production (dir. Jim Millan) featured Brent Carver as David, and Leonore Zann as Candy. The French translation of Unidentified... (directed by André Brassard) was a hit at the Théâtre de Quat'Sous. It was made into a movie by Denys Arcand in 1994, with a screenplay by Fraser. The play premiered in the UK at the Traverse Theatre in Edinburgh, and was performed in London and Chicago. In 1994, it was produced by Belvoir St. Theatre in Sydney, Australia for the Sydney Festival. It has also been produced in Brazil in Portuguese.
The Ugly Man (Alberta Theatre Projects, 1990, directed by Bob White; subsequently in Brighton, London, Edinburgh, Brussels and New York), is a bleak and violent piece, based on The Changeling by Thomas Middleton. It takes its tone from the Renaissance revenge tragedies and pushes the sex and violence even further. The Montreal francophone production directed by Derek Goldby, again at the Quat'Sous, featured sodomy, oral sex and sexual urination along with multiple murders. It caused a stir in the Montreal artistic community about the nature of the new wave of Anglo-Canadian theatre, and the play was compared with the works of another playwright with a similarly jaundiced world view, Judith Thompson, whose dramas were also being played in French in Montreal at the time.
Fraser's best-received work is Poor Super Man (Ensemble Theatre of Cincinnati, 1994, dir. Mark Mocahbee; Canadian premiere co-produced by Workshop West and Theatre Network 1994 , dir. Fraser). Though not physically violent, the work is no less candid in its portrayal of gay and straight sexual activity, and it is Fraser's most direct discussion of the AIDS pandemic. Poor Super Man is a play with captions like comic book bubbles, projected on the back wall, ceiling, or on characters' bodies to indicate setting, or provide an ironic unspoken response or thought. Two men, two women and a bi-sexual man speculate on the various permutations of love: David, a frustrated gay artist; David's friend Shannon who is in the process of transitioning to a woman and is HIV positive; his other friend Kryla, a cynical reporter on the lookout for a man; Matt, a married man to whom David is attracted while working in his restaurant and discovering their mutual liking for comic books; and Violet, Matt's gay-phobic wife. As Violet indicates early in the play, "It's like we're all speaking different languages and we only understand every third or fourth word." And no one really knows anyone else. They all lie to one another. Even Superman is exposed as fallible. The setting is in Calgary in the 1980s during a period of economic recession, when AIDS was decimating the gay community.
Martin Yesterday (1998), which takes a jaundiced look at the gay scene, was performed in Toronto, Edmonton, Manchester, and San Francisco, with a mixed critical response. Fraser's adaptation of the movie Outrageous (with Joey Miller and Darrin Hagen) opened at Canadian Stage in autumn, 2000, and his commissioned work Snake in Fridge opened at the Royal Exchange Theatre in Manchester England also in autumn, 2000. Cold Meat Party premiered at the Royal Exchange in March 2003, and evoked a typically wide range of responses. Three friends, with radically dissimilar lifestyles, meet for the funeral of a mutual college friend, and demonstrate their inability to cope with their empty lives while satirizing contemporary mores in a series of one-liners.
True Love Lies also premiered at the Royal Exchange in winter, 2009, continuing Fraser's fifteen year relationship with the Manchester theatre. It was nominated for best new play at the Manchester Evening News Theatre Awards. It premiered in Canada at Factory Theatre in October 2009 (dir. Fraser), and was nominated for best new production. In April 2011, it was produced at the Citadel Theatre (dir. Ron Jenkins). Based on Fraser's own accidental meeting with an estranged lover who had subsequently married and had children, True Love Lies juxtaposes the fraught scenarios of a "nuclear family," and of the protagonist of Poor Super Man, who is running a restaurant, and holding off the ageing process with all of his resources. The wife, son, and daughter's uncovering of the father's former life results in jealousy, confrontation, and evasion, providing a humorous and insightful look at contemporary dysfunctional sexual morality and practice. Critic, Christopher Hoile considers it one of Fraser's best: "Fraser has written and directed the play so much in the laugh-a-minute style of sitcoms, complete with unnaturally zingy comebacks and much-too-perfect one-liners, that one must assume he has done so consciously, in order to wrench this mindless model, along with the institution of marriage, into unfamiliar territory. In this he brilliantly succeeds, so that the play gradually morphs into a genuine human comedy on a more satisfying, more realistic, more emotional plane." (Eye Weekly 8 Oct 2009)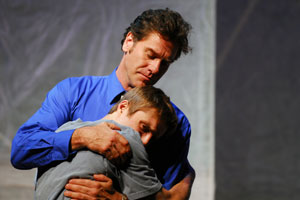 David W. Keeley and Andrew Craig in
True Love Lies
by Brad Fraser,
Factory Theatre
(26 Sept-1 Nov 2009).
Photo by Ed Gass-Donnelly
5 @ 50 premiered at the Royal Exchange in 2011. Five women in their fifties reunite to consider the toll taken on their lives by booze, drugs, bad sex, infidelity, and abusive marriages. Its Canadian premiere was by Ruby Slippers Theatre and Zee Zee Theatre, Vancouver in 2016.
Kill Me Now premiered at Workshop West Theatre in September, 2013, directed by Fraser. A widowed father patiently cares for his disabled son, until he contracts a painful illness which renders his life unbearable. Although he is assisted by his selfless sister, his son's manic friend, and a clandestine married lover with whom he has weekly sex, he finally decides to terminate his life. A bathtub figures prominently in this complex scenario--in which the father takes care of his son's physical needs, and his own death. Kill Me Now played in London to mixed reviews, and controversy over Fraser's depiction of disability. In 2018, it was produced at Touchstone Theatre.
In a provocative and witty way, Brad Fraser has spent much of his career throwing stones at the status quo. He challenged the theatre establishment to change it ways from the stolid domestic dramas of the 60s and 70s to something that an emerging generation of theatregoers could get their teeth into and enjoy. His works are fast-paced, graphic, and uncompromising, often including nudity. Most candidly explore the personal lives of gays, and their often violent struggles with a hostile world. Many of his characters are sexually fluid, offering theatregoers a broader interpretation of sexual orientation, one that both delights and enrages straight and gay spectators alike.
Brad Fraser has also written for young audiences, notably for Citadel Theatre's Teen Festival of the Arts series: Blood Buddies (with Jeffrey Hirschfield), Young Art, and Prom Night of the Living Dead (with Darrin Hagen).
He was a contributor to The National Post, considered a right-wing publication. About this he told Edmonton's Vue Magazine, in June, 2000, "...I'm really tired of preaching to the converted. I could write for a great many publications where they'd agree with everything I say. But I really want to write for the people who don't agree with everything I say." However, for Fraser, theatre is the most immediate way of communicating, since it connects to a live audience, but can imagine many diverse scenarios.
Fraser has also been a script writer for the TV gay sit-com, Queer as Folk.
More recently, Fraser has directed productions of Canadian plays; for example, The Berlin Blues by Drew Hayden Taylor (Blyth Festival 2017).
Brad Fraser has twice received the Chalmers Award (Unidentified... and Poor Super Man) and was nominated for the Governor General's Award (Poor Super Man, 1996). He is a five-time winner of the Alberta Culture Playwriting Competition and five-time winner of the Alberta Writers' Guild Drama Award. He also received the London Evening Standard Award for best new play and the Los Angeles Critics' Award (both for Unindentified....
Fraser's plays are published by NeWest Press and Playwrights Canada Press. His memoir, All the Rage: A Partial Memoir in Two Acts and a Prologue was published by Doubleday Canada in 2021. It provides a graphic account of his impoverished, itinerant childhood, his struggles as a gay man in a conservative society and culture, the Canadian theatre scene in the 1970s and 80s, and the AIDs pandemic, which killed many of his friends.
Website: www.bradfraser.net
Profile by Gaetan Charlebois and Anne Nothof
Last updated 2021-07-30