Théâtre de Quat'Sous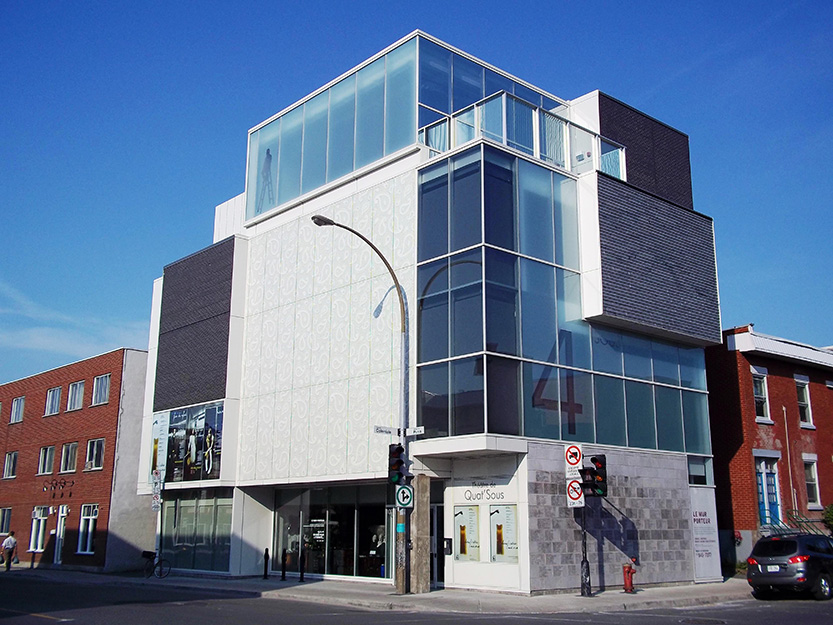 Théâtre de Quat'Sous
Montreal theatre founded in 1955 by Paul Buissonneau. The name, "Four Penny Theatre," was suggested in fun by Claude Robillard, and has been retained for over sixty years. In the first ten years Buissonneau produced a play annually at various venues in Montreal, most of which were comedies and spectacles. Quat'Sous became a non-profit organization in 1963, and established its own theatre space in 1965 in a 160-seat converted synagogue on Avenue des Pins. The "Quat'Sous bar" opened in 1978, presenting small spectacles in the foyer. The theatre was extensively renovated in 1985. In 1998 a fire destroyed the archives, but the stage was spared. In 2009, Quat'Sous was deconstructed and reconstructed as an impressive glass and stone structure.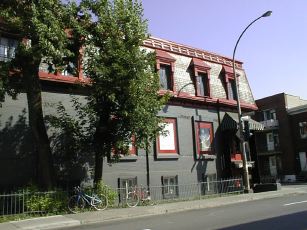 Théâtre de Quat'Sous
Buissonneau questioned prevailing theatre aesthetics and dominant social values through provocative and innovative productions, and supported talented young artists. In 1968 his musical "happening," Osstidcho contributed to a changing cultural milieu in Quebec.
Quat'Sous was instrumental in the development of Quebec drama through its collective creation, and its support of playwrights such as Jean Morin, Robert Gurik, Marie Savard, and Serge Sirois. It also produced Michel Tremblay's early plays, including Hosanna in 1973 (dir. André Brassard), and the premiere of Michel Garneau's Quatre à Quatre in 1974.
Quat'Sous collaborated with other alternative and experimental theatres during the 1970s, supported new playwrights such as Norman Chaurette and René-Daniel Dubois, but also produced works by Brecht and Ionesco. In the 1980s musical performers such as André Gagnon appeared on the main stage, as did productions of Hamlet, and adaptations of Kafka's Metamorphosis and Boccaccio's Decameron, directed by Alexandre Hausvater.
Actor Louise Latraverse became Artistic Director in 1984, introducing Théâtre Repère productions of Circulations and Vinci (performed by Robert Lepage in 1986). In 1985 Quat'Sous produced Jovette Marchessault's Anais dans la queue de la comète, and René-Daniel Dubois' Being at Home with Claude.
Louison Danis was AD from 1986-8, and Pierre Bernard from 1988 to 1995. In 1988 Robert Lepage and Marie Brassard's Polygraph premiered at Quat'Sous. In 1991 the theatre produced a French translation of Brad Fraser's Unidentified Human Remains and the True Nature of Love, and in 1998 a translation of George F. Walker's Suburban Motel. In fact, many of the productions during the 1990s were translations of English plays.
Robert Lalonde became AD in 1996, and Wajdi Mouawad from 2000 to 2004, directing several of his own plays, including Rèves and Incendie. The focus of the theatre broadened to cover a wide range of international plays.
Eric Jean became AD in 2004, presenting Impératif présent by Michel Tremblay, in the 2003-04 season. As of 2016, playwright Olivier Kemeid (whose parents emigrated from Egypt) is the Artistic Director.
Website: www.quatsous.com
Additional source: Pierre MacDuff. "Théâtre de Quat'Sous," Oxford Companion to Canadian Theatre, Eds. Eugene Benson and L.W. Conolly. Toronto: Oxford UP, 1989.
Last updated 2020-11-11