Danis, Louison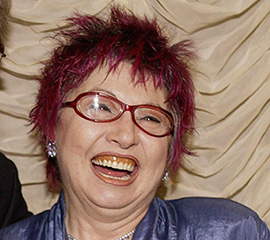 Louison Danis. Photo by CP Images.
Franco-ontarienne actor/director born in Ottawa Ontario in 1951, who has been working for over twenty-five years in Quebec theatre since 1970 in over 100 roles, before beginning a successful career in television and film.
Louison Danis has performed with Théâtre les gens d'en bas (La Jeune fille et la mort/Death and the Maiden); Théâtre Populaire du Québec (Les Traverses du coeur); at Nouvelle Compagnie Théâtrale / Théâtre Denise-Pelletier (Arrêter le mensonge/A Lie of the Mind), as well as at Compagnie Jean-Duceppe, Théâtre du Nouveau Monde, Espace Go, Théâtre du Rideau Vert, Théâtre de Quat'Sous and Saidye Bronfman Centre. In November 1999, she appeared in the premiere of Serge Boucher's 24 poses at Théâtre d'Aujourd'hui, directed by René Richard Cyr. In September 2000, she acted in the premiere of Reynald Robinson's Hôtel des Horizons for Théâtre Petit à Petit (PàP), directed by Claude Poissant. She returned to Théâtre d'Aujourdhui in 2016 to play a dying grandmother in Dimanche napalm by Sébastion David.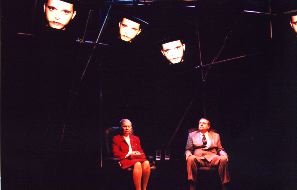 Louison Danis (l) with Vincent Bilodeau in Théâtre le Boléro's En Cas de meurtre/Tone
Clusters, by Joyce Carol Oates, 1998
(photo: Jean-Guy Thibodeau)
Louison Danis's performances are marked by an emotional intensity and vivid character detailing.
Profile by Gaetan Charlebois.
Last updated 2020-06-09