Compagnie Jean-Duceppe
Montreal, Quebec, company founded by actor/director Jean Duceppe in 1961 as Théâtre des Prairies and helmed by Duceppe until his death in 1990. From 1991 to 2018, Michel Dumont was Artistic Director. Current co-ADs are David Laurin and Jean-Simon Traversy.
The Company is housed in the theatre hall of Place des Arts which was called Théâtre Port-Royal but has since been renamed for Duceppe.
The hall is the source of the company's strength and its woes as well. The space is very large, the stage is hard to fill, and the acoustics in some sections of the house are abysmal. However, the venue allows for some spectacular big works or some big versions of small works. Yves Desgagnés's 1995 production of Chekhov's Ivanov, staged in a field, and the same director's 1994 production of Shaw's Sainte Jeanne/Saint Joan actually tamed the stage and filled it with fascinating imagery. But works like Tennessee Williams' La déscente d'Orphée/Orpheus Descending staged by François Barbeau simply got lost in the space. Also, because the rents for the venue are very expensive, the 755 seats have to be filled, and much of the Company's fare is commercial; the subscribers, largely middle-class, have enjoyed a steady diet of Neil Simon and Ray Cooney at the house as well as hits of the middle-stream Broadway stage.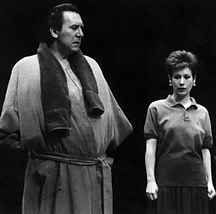 However, there have been some pleasant surprises in the programming: the premieres of Michel Tremblay's Messe Solennelle pour une pleine lune d'été and La Maison suspendue, for instance, as well as works by Chekhov, decent productions of the works of Arthur Miller, and the famed production of Charbonneau et le Chef starring the founder. In 1997-98 the Company presented an all-Quebec season which was a smashing success. In 2000, it premiered Steve Galluccio's Mambo Italiano. For the 2012/13 season the Company presented The Orphan Muses/Les Muses orphelines by Michel Marc Bouchard.
One of the artists who has directed often at the house is Jean Duceppe's daughter, Monique Duceppe.
Website: www.duceppe.com
Profile by Gaetan Charlebois
Last updated 2020-11-10