Charbonneau et le Chef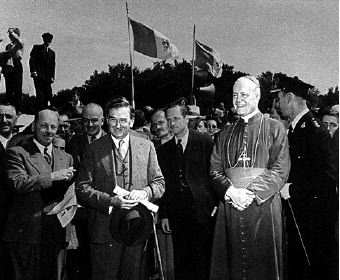 The real Charbonneau et le Chef
Historical drama in two acts by John Thomas McDonough adapted by Paul Hébert and Pierre Morency, premiered at the Théâtre du Trident, March 1971, directed by Hébert, set and lighting by Jacques Pelletier and Denis Mailloux, costumes by Paul Bussières, featuring Jean-Marie Lemieux (Charbonneau), Jean Duceppe (Duplessis), Bernard Assiniwi, Pierre Héral, Marc Legault, Hubert Gaudry, Michel Dumont, Raymond Bouchard, Philippe Reynal, Rémy Girard among others. Revived at the Trident May, 1972. Performed with Duceppe and Lemieux at Compagnie Jean-Duceppe, November 1973. Subsequently toured including to the National Arts Centre. Premiered in English at the Saidye Bronfman Centre in April, 1975.
Based on real events, the work deals with the hideous 140-day asbestos strike in 1949 and the battle of wills between the Archbishop of Montreal, Joseph Charbonneau, and the premier of Quebec and archetypal politician Maurice Duplessis. Ultimately Charbonneau (and the workers) was betrayed by the politicos, both lay and religious.
Spellbinding, highly theatrical, with a lucid, fast-paced structure, it is hard to overstate the effect the play and the magisterial performances of Duceppe and Lemieux had on spectators and critics. (It is remembered as one of Duceppe's two greatest performances along with Willy Loman in La mort d'un commis voyageur/Death of a Salesman.) At several performances, when Charbonneau's betrayal by his Catholic superior is sealed with a kiss on the cheek, audience members would shriek, "Judas!" It is important to note, too, that the play was one of the first artistic debunkings of the Duplessis myth--the man's political savvy and sense of humour were there in the play, yes, but so were his dishonesty and cruelty.
Commentary by Gaetan Charlebois
Last updated 2017-01-30