Duceppe, Jean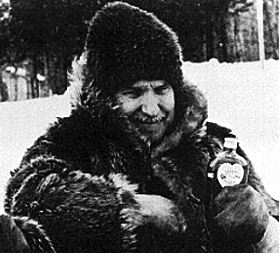 Jean Duceppe in the title role of Claude Jutra's film Mon oncle Antoine
Magnificent actor born in Montreal, Quebec in 1924, died in Montreal in 1990. He was part of this country's theatre history from its great days.
The youngest of 18 children, he lost his mother at the age of two, and his father at age nine, and was raised by his sister. He had been studying to become a Franciscan brother before performing with Compagnons de Saint-Laurent and being told he didn't have the culture it took to play the great roles. At the age of 17, he joined la troupe de l'Arcade, the only professional company in Montreal, beginning a career that lasted fifty years, and starring in the works of Marcel Dubé and Gratien Gélinas at Comédie-Canadienne, Théâtre du Nouveau Monde/TNM, Théâtre du Trident, Théâtre du Rideau Vert in his own theatre Compagnie Jean-Duceppe (founded in 1961 as the Théâtre des Prairies), on television and in film.
He is remembered for three astounding performances, one on film and two in the theatre: as Mon oncle Antoine in Claude Jutra's film, as Willy Loman in La mort d'un commis voyageur/Death of a Salesman and as Maurice Duplessis in Charbonneau et le Chef.
Duceppe's performances were marked by a big voice and strong presence, yet a human vulnerability that was profoundly touching.
In a moving tribute, Marcel Dubé wrote, in Le revue de la Cinémathèque in April, 1999, "When he came out from the wings to appear before the public, he became, in a fraction of a second, master of the situation and of the play and the audience fixed their stare automatically on him, listening very carefully so as to seize the magic moment he was creating."
Viewings: Côté cour... côté jardin, National Film Board, 1953, dir: Roger Blais - backstage during a TNM performance of L'Avare/The Miser
Mort d'un commis voyageur, La, Radio-Canada, 1962, dir: Paul Blouin - a production of the Miller play staged for television featuring Duceppe in one of his greatest performances.
Among his children are director Monique Duceppe and former parliamentarian Gilles Duceppe.
Profile by Gaetan Charlebois
Last updated 2016-06-07