Théâtre du Rideau Vert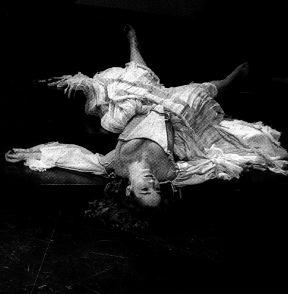 Théâtre du Rideau Vert's 1993 production of
Shakespeare
's
Nuit des Rois/Twelfth Night
, directed by
Guillermo de Andrea
with Linda Roy (photo: Guy Dubois)
Company in Montreal, Quebec, founded in 1949 by Mercedes Palomino and Yvette Brind'Amour. It is the oldest professional French theatre company in North America. Yvette Brind'Amour was Artistic Director until her death in 1992, and Guillermo de Andrea assumed the position until 2004. The current Artistic Director is Denise Filiatrault. Céline Marcotte is the Director General.
The company was launched with a production of Lillian Hellman's Les innocentes/The Children's Hour, directed by and starring Yvette Brind'Amour. Over the years, many of Canada's great actors have performed in the theatre, including: Denise Pelletier, Jean Gascon, Gérard Poirier and Geneviéve Bujold.
The repertoire was primarily traditional and international. The Rideau Vert took a big leap forward in 1968 with the premiere of Michel Tremblay's Les Belles-soeurs (directed by André Brassard). Although it had presented premieres before and did after, this was perhaps one of the most significant in the history of modern Canadian theatre. From the placid little house which presented the works of Shakespeare, Molière, Ibsen and Feydeau, Rideau Vert launched itself into the forefront of the new Quebec theatre.
Since 1972 and Rideau Vert's production of La Sagouine, the company has championed the theatrical career of Antonine Maillet as well, presenting the premieres of most of her plays and translations.
The company has also toured extensively in Canada and abroad (to Europe and Russia).
From 1968, the Rideau Vert has owned (and in 1992 extensively renovated) the same theatre on St-Denis Street. It is a monument to nearly five decades of fiscal and artistic ups and downs, but also of solid, accomplished theatrical life.
The company began its 50th season with the production of a new work by Michel Tremblay, the brilliant Encore une fois, si vous le perméttez. It continues to present classics of all repertoires.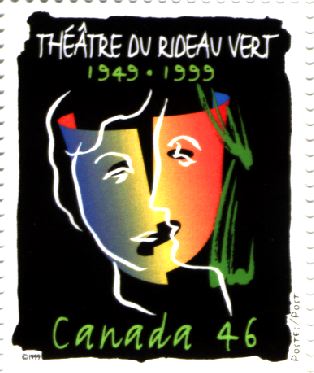 Canada Post issued a stamp celebrating Théâtre du Rideau Vert on its 50th anniversary, February 17, 1999. The stamp was designed by Marie Rouleau and Yves Paquin, of Montreal, and combine the masks of tragedy and comedy, but also the faces of the company's co-founders: Yvette Brind'Amour (foreground) and Mercedes Palomino.
Additional reading: Le Théâtre du Rideau vert: 50 ans à célébrer le théâtre, 1949-1999. Publié sous la direction de Mercedes Palomino, Guillermo de Andrea, Serge Turgeon. Montréal: Leméac, 1999.
Website: www.rideauvert.qc.ca
Profile by Gaetan Charlebois
Last updated 2021-08-30