Filiatrault, Denise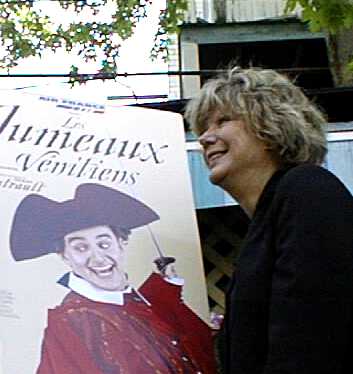 Denise Filiatrault
Quebec-based actor/director, born May 16, 1931. Her father was a police detective who wanted her to be a court stenographer. After leaving high school she worked as a typist for three years before beginning a career as a performer.
Though she has directed all the French mainstage productions for Just for Laughs, Denise Filiatrault's was a star of stage, film and television for decades before the comedy festival. She is probably best remembered for her comic work, notably teamed with comedienne Dominique Michel on stage and television. She also appeared in dozens of musical revues and variety productions as well as the works of Michel Tremblay. She was cast primarily in comic plays at first, until she began to reveal a wider range in the Just for Laughs shows, not all of which were broad comedies.
In the 1990s, Denise Filiatrault slowly turned towards directing. Among the works she has helmed there are Pagnol's Marius et Fanny, Molière's Les Fourberies de Scapin and Le Bourgeois Gentilhomme, Les Leçons de Maria Callas (Terrence McNally's Masterclass, translated by Tremblay) and the 1999 production of Feydeau's Monsieur Chasse. She has also directed for the Compagnie Jean-Duceppe (a hit revival of Tremblay's Les Belles-soeurs, 1994) and Théâtre du Rideau Vert (Mlle Julie/Miss Julie starring Sylvie Drapeau, 1995, Grace et Gloria, 1998, Deux pianos, quatre mains/2 Pianos, 4 Hands, 1999) and a mega-production of the Dompierre/Tremblay musical Demain matin, Montréal m'attend (1995, revived at the Montreal Casino, 1999). She also directed the smash-hit English-language production of Belles-soeurs at Canadian Stage (April 1999) and the English version of Grace... at Saidye Bronfman Centre (1999).

On directing classical comedy works, prior to the run of Monsieur Chasse, Mme Filiatrault told Voir (Montreal), "You can't mount a comedy today like you did 100 years ago. If he lived in 1999, Feydeau himself would cut his plays so that it would work in our era."
Mme Filiatrault also directed the 1998 hit movie version of the Michel Tremblay novel C't'à ton tour, Laura Cadieux (and is slated to direct the sequel to the movie).
Among her many awards, are Officer of the Order of Quebec, and of the Order of Canada. In 1999, she received a Governor General's Award for Lifetime Artistic Achievement.
Profile by Gaetan Charlebois
Last updated 2019-11-11