Les Belles-soeurs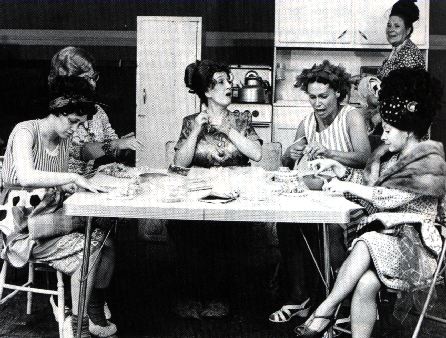 Two-act play written in 1965 by Michel Tremblay, premiered at Théâtre du Rideau Vert August 28, 1968, directed by André Brassard with Denise Proulx, Odette Gagnon, Denise Filiatrault, Rita Lafontaine, Luce Guilbeault, Germaine Giroux and Nicole Leblanc among others, with set by Réal Ouellette and costumes by François Barbeau.
The impact of this work is still being debated in Quebec today, but suffice it to say that it changed much of what was believed to be Quebec culture: language, the form of theatre, which plays should be done at which theatres, the displacing of the Old Guard. Indeed, when it was proposed for the Dominion Drama Festival it was turned down by the jury. It was Tremblay's first professionally produced play, and now his most-produced and most often translated work. It set off a storm of controversy, firstly because of the language (a particularly raucous - some say vulgar - joual), and then because it dared to portray working class women doing working class things. Also, it went after men. None of this sounds particularly special today, but in 1968, theatre in Quebec was just releasing itself from religious and morality plays and joining (late) in the Quiet Revolution; although Marcel Dubé and Gratien Gélinas had been writing about "normal" folk for years, they had not been doing it quite like this. The premiere also reinforced the emergence of a long and still-fruitful artistic relationship between Tremblay and director Brassard.
Along with several translations (notably into Yiddish for the Yiddish Theatre of Montreal and the Bill Glassco/John Van Burek English version premiered at the St. Lawrence Centre, 1973) the work has been rendered in a popular Scottish version as well: The Guid Sisters (translated by Martin Bowman and Bill Findlay) which toured from Scotland to, among other venues, the Centaur Theatre in Montreal. In 1994 the work was revived by the Compagnie Jean-Duceppe and directed by Denise Filiatrault (who had been in the original cast) it became the success of the year. Filiatrault went on to present the work again for Canadian Stage in 1999 starring Janet Wright.
In April 2010, a musical adaptation in French by René Richard Cyr (writer) and Daniel Bélanger (composer) scored a popular success at Théâtre d'Aujourd'hui. In 2014, a more hopeful musical interpretation in English by Brian Hill (book) and Neil Bartram (music) opened at the Segal Centre for Performing Arts.
The story is simplicity itself: Germaine, a Montreal housewife, has won a million Gold Star stamps (stamps given out by grocery stores, which customers stuck into little booklets and exchanged for goods like barbecues and lawn chairs) and has invited all the women she knows to come over and help her stick them into the booklets. As they stick, the women discuss the men in their lives, the church, and their small joys. In one elaborate and thrilling spoken-choral passage the women tell of the joys of Bingo. Germaine doesn't realize until the play's conclusion that while the women are all talking, they are also robbing her of her Gold Star stamps.
It has been published several times in several versions including in French by Leméac, and in English by Talon.
Critics did not know what to do with the work. Martin Malina writing for the Montreal Gazette said, "The handicap of youth carried by director and playwright must raise the over-all score...Both are rookies in professional theatre and one can easily understand why they were given the honor [sic] of opening the Rideau Vert's 20th anniversary season. But it will take at least another try to remove the precociousness from their obvious talents."
Commentary by Gaetan Charlebois
Last updated 2023-05-03