Gélinas, Gratien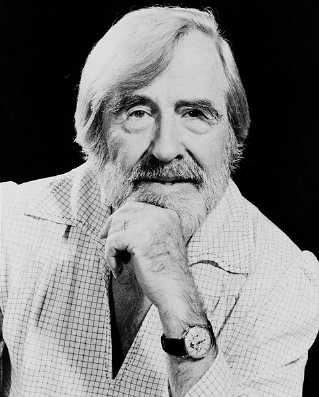 Gratien Gélinas (Montréal, Québec - ca. 1980 André Le Coz/Archives nationales du Canada/PA-199456)
Playwright/producer/actor/director, one of the founders of modern Canadian theatre.
Born in St-Tite, Quebec in 1909, he developed a passion for theatre during his studies in the classics at the College de Montreal, from which he graduated at the beginning of the Depression. Financial exigencies prevented further studies towards a law degree, and he worked at an insurance company for eight years, but continued to pursue his theatrre interests by organizing an alumni group to produce plays, and acting in radio plays.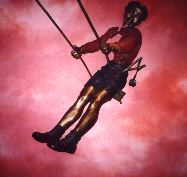 Bronze depiction, at the
Monument National
, of Gratien Gélinas in
Les Fridolinades
(Sculpture by Pascale Archambault; Photo: GLC)
Gélinas was vaulted into the cultural consciousness of the province in 1937 with his Radio-Canada character, Fridolin, who gently lampooned contemporary mores in a colloquial French that anticipated the "joual" of Michel Tremblay's works. Wearing a boy's cap, a Canadiens' blue, white, and red hockey sweater and suspenders, the street-smart adolescent from Montreal's East End also launched Gélinas into the theatre as the star of popular comedy revues known as Les Fridolinades. The shows were performed to huge success from 1938 to 1946 and were revived in 1990s at the Théâtre du Rideau Vert, and in November 2010 at the Théâtre Français de Toronto (adapted and directed by Perry Schneiderman).
Though considered pure entertainment, Les Fridolinades and Fridolin were the source of the tone of much of the country's subsequent neo-naturalist drama and comedy, and the amiable Québécois Everyman character that would mark many of Gélinas' later works (Bousille et les justes and Tit-Coq especially).

Gélinas became the darling of the popular theatre scene when his first complete play, Tit-Coq, became a hit and went on to tour the rest of the country and the United States. Gélinas was now performing in English as well. He also appeared in Michael Langham's celebrated Henry V (1956) at Stratford.
In 1957, he founded the Comédie-Canadienne, which would become a hothouse for a new generation of Quebec artists (ie: Marcel Dubé) as well as the site of the premieres of most of the rest of the Gélinas opus (Bousille..., 1959; Hier, les enfants dansaient, 1966). After the company disbanded, Gélinas went on writing and acting on stage, television and in film. His last play, La Passion de Narcisse Mondoux, in which he acted over 500 times, premiered at the Théâtre du Rideau Vert in 1986. He played the two-hander opposite his wife, Huguette Oligny and they performed in French and English, in the US and Canada.
He was also a translator: notably of George Ryga's The Ecstasy of Rita Joe and of the musical Hair. He was a Companion of the Order of Canada and received nine honourary doctorates. In 1987, he received the Toronto Drama Bench Award for Distinguished Contribution to Canadian Theatre. He was married twice, to Simone Lalonde (1935 to her death in 1967) and to Huguette Oligny (1973 to his death). With Lalonde he had six children.
His granddaughter, Anne-Marie Sicotte, published the first volume of her biography about him, La Ferveur et le doute, in 1996. In it, Gélinas described his childhood and his parents' divorce in the 1920s which left him feeling like an orphan. This sense of orphanhood would haunt many of his works and would, sometimes, be interpreted as a political message (ie: the orphanhood of Quebec within Canada).
He died of pulmonary complications in Deux-Montagnes, Quebec, March 16, 1999. He had suffered from Alzheimer's Disease in his last years.
Profile by Gaetan Charlebois.
Last updated 2018-07-03