Radio-Canada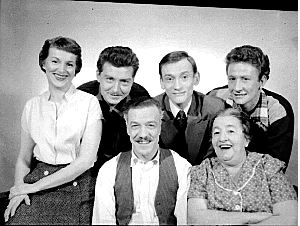 The phenomenal Radio-Canada/
CBC
series
La Famille Plouffe/The Plouffe Family
which was performed one evening on the French network in French and the next on the English network in English. Seen in the photo are, among others,
Jean-Louis Roux
(third from left, top) and
Denise Pelletier
(first from left, top).
The French-language service of the Canadian national network of radio and television (the English service is called CBC).
The crown corporation which controls the service was created on November 2, 1936 by an act of Parliament and was built on the structures of earlier experiments in national broadcasting. From 1936 to 1958, the organization was controlled by a unpaid board of governors, but in 1958 a chairmanship was created.
The corporation, by the 40s, was part of the Golden Age of radio and began to have a distinct effect on culture. The boom in radio drama production also created a boom for actors, directors and particularly dramatists. Indeed, to this day the corporation supports emerging and established dramatists. Unlike the CBC, radio and television at Radio-Canada have continued to be dominated by dramatic production and so employs local theatre artists of all sorts.
Playwrights often came to mass public attention (and so furthered their stage careers) through Radio-Canada: Félix Leclerc, Pierre Dagenais, Françoise Loranger and Marcel Dubé, and later Michel Tremblay and Gaëtan Charlebois, are just some of the crossover artists who worked on French radio or television as well as on stage. By the late 50s and early 60s, there was a free exchange of product from one art form to the other. Theatre companies - like Théâtre du Nouveau Monde - plays and their casts often went to radio or television. By the time the private stations arrived in Quebec, it was impossible to ignore the practice.
Through an ongoing commitment to made-in-Canada drama (produced for the stage or directly for television or radio) Radio-Canada continues to fulfil its mandate, despite huge, ongoing cutbacks since the Brian Mulroney government of the early 80s. If there is one criticism of Radio-Canada, it is that it has latched on to the so-called télé-roman (prime-time soap opera) so popular with the private stations. However, the arguments may also be made that these are a fiscal necessity and that, despite their corniness, they still employ highly talented artists who would otherwise have fled the arts altogether.
Part of Radio-Canada's mandate to show national culture has been mirrored in the output of Quebec's state-television, Télé-Québec, which often shows televised productions of stage plays.
Viewings: La Mort d'un commis voyageur, dir: Paul Blouin, Radio-Canada, 1962 - a production of the Arthur Miller play staged for television featuring Jean Duceppe in one of his greatest performances. Radio-Canada archives contain several stage plays produced for series on the network like Les Beaux Dimanches.
Website: www.radio-canada.ca
Profile by Gaetan Charlebois.
Last updated 2021-08-24