Dubé, Marcel
Playwright, one of the most important figures in Canadian theatre history. He was born into a family of eight children in Montreal, Quebec, January 3, 1930; died April 7, 2016 at the age of 86.
He studied at Collège Sainte-Marie where he got his taste for theatre, frequenting the school's auditorium, the historic Salle du Gésu, where he made his debut. At Collège Sainte-Marie he founded with friends, including Monique Miller and Raymond Lévesque, the theatre company La Jeune Scène, for which he wrote his first plays. He won several awards at the Dominion Drama Festival in 1953 with his own play, De l'autre côté du mur which later became Zone.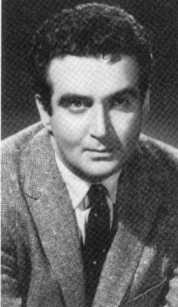 Marcel Dubé (c. 1963)
He then attended the Université de Montréal, and the plays he wrote there were so successful that he was soon able to write for a living.
Over the next five years Radio-Canada presented, on radio and television, over thirty of his works (many of which he later adapted to the stage). He produced over 300 works for radio, television and the stage.
Because of his concerns for the preservation of the French language in Quebec and around the world, he participated in many other organizations. He was first secretary, then president, of the Conseil de la langue française, president of the Rencontres francophones du Québec and co-founder and director of the Sécretariat permanent des peuples francophones.
He was the recipient of many awards: In February, 2001, he was named Officer of the Order of Canada; and in 2005, he received a Governor General's Award.
Notable plays include: Florence; Un simple soldat; Les Beaux Dimanches; Le temps des lilas; Au retour des oies blanches.
Other plays include: Équation à deux inconnus (premiered at the Théâtre de l'Égrégore, 1967); Bilan (Théâtre du Nouveau Monde, 1968); and Le Réformiste ou L'Honneur des hommes (TNM, 1977). Translations and adaptations include Arthur Miller's Death of a Salesman as La Mort d'un commis voyageur and Jean Anouilh's Antigone.
Profile by Gaetan Charlebois.
Last updated 2021-08-02