Salle du Gésu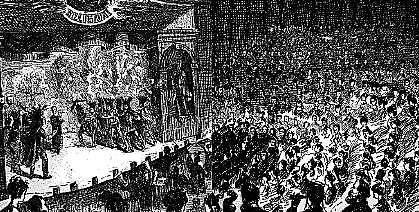 A performance at the old Gésu (c. 1870). The performance appears to be a pageant depicting the martyrdom of Jean de Brébeuf. Above the proscenium the word "Religion" with "Science" and "Art" to either side.
Venue in Montreal, Quebec, second only to the Monument National in its significance and presence in Quebec theatrical and social history.
It has served as home for many of the companies and productions fundamental to Quebec including the Compagnons de Saint-Laurent, Théâtre du Nouveau Monde, Théâtre du Rideau Vert, Théâtre Petit à Petit, Just For Laughs, Nouvelle Compagnie Théâtrale / Théâtre Denise-Pelletier, Équipe, and the Dominion Drama Festival (where it served, notably, for the premiere of Robert Gurik's Le Pendu).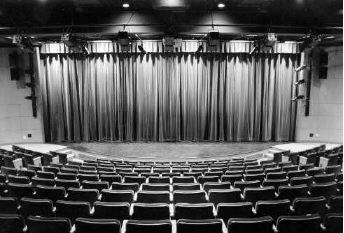 The renovated Salle du Gésu
It began as part of the Collège Sainte-Marie (established in 1851), a Jesuit school, hidden away beneath the institution's chapel. The theatre and the chapel are all that survive of the original structure. The Jesuits privileged the art of communication in their instruction, and, by extension, theatre, for which they constructed performance spaces. The first work to be mounted there (and recorded in the archives) was Racine's Athalie in 1925. The line from that production through to contemporary Quebec theatre history can be followed from that point, as the work was mounted by Fr. Joseph Paré who went on to instruct and direct Jean Gascon and Jean-Louis Roux (notably in Rostand's L'Aiglon).
The main hall seats 430, and a tiny studio space in the rear seats 80. There are also exhibition galleries in the refurbished complex.
It has more recently served as a space for performances from the Just For Laughs, including the 1997 production of Ben Elton's Silly Cow and 1998's premiere of William Weintraub's The Underdogs.
Web site: www.legesu.com
Profile by Gaetan Charlebois.
Last updated 2020-01-14