Just For Laughs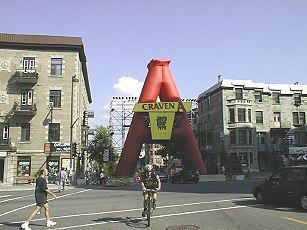 Just For Laughs takes over St-Denis Street in Montreal (1998; photo: GLC)
Annual bilingual comedy festival held in Montreal, founded in 1982 by François Rozon as Juste pour rire, and running for four days. It became bilingual the subsequent year with Andy Nulman becoming director of the English section. The present head of the organization is Bruce Hills. The Festival now runs for over three weeks in Monreal, and in Toronto, Chicago, and Bermuda, and produces a television program, and international tours.

Besides stand-up comedy, novelty acts, and street performances, the Festival has a very active theatre wing with one big-budget production presented each year by the French section (Marius et Fanny, Le Bourgeois Gentilhomme, Les leçons de Maria Callas/Masterclass, Le dîner des cons, etc.), directed by Denise Filiatrault, and important North American solo works presented by the English section (Andrea Martin's Nude, Nude, Totally Nude, Dan Butler's The Only Thing Worse You Could Have Told Me..., Sherry Glaser's Family Secrets etc.).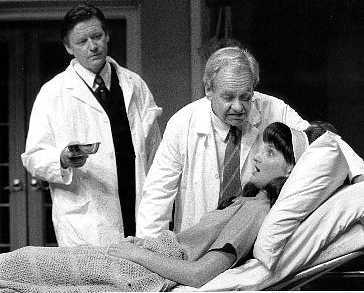 This summer festival is also a showcase for improvisation and sketch comedy from all over the world.
In 1997, the English wing's inaugural production, Ben Elton's Silly Cow, starring Luba Goy, did not fare well. In 1998 the English wing presented William Weintraub's controversial The Underdogs. In the same year, the French wing decided to present smaller productions in tandem with its mainstage work. The first such production was François Archambault's touching 15 secondes which went on to win the Masques Awards for best privately produced production and revelation of the year (1999).
At the end of the 1998 festival, the organization began to restructure, in part because of new laws forbidding displays by advertisers of tobacco products at cultural and sporting events. In 1999, Lotto Quebec announced it would sponsor the Festival.
In 1999, the English theatre wing of the Festival named an artistic director, Joel Greenberg who subsequently directed Joe Orton's What the Butler Saw. The French wing presented the Feydeau work, Monsieur Chasse in 1999.
In spring, 2000 the Festival decided it would no longer present locally produced English-language theatre after appointing an artistic director to the wing a mere year before. In 2001, however, they presented a locally produced production of Mom's The Word. In the 2000 edition of the Festival, the French theatre wing presented Ben Elton's Popcorn and Carlo Goldoni's Les jumeaux vénitiens/The Venitian Twins. In 2001, the French wing presented Peter Shaffer's Comédie dans le noire/Black Comedy.
Website: www.hahaha.com
Last updated 2020-11-18