Archambault, François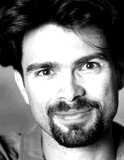 François Archambault
Prolific and popular playwright of satiric comedy, born in Montreal Quebec 13 February 1968, and raised in its suburbs. He graduated from the National Theatre School of Canada's playwriting programme in 1993. His has authored or co-authored more than twenty plays, many of which have been translated into English, German and Italian, and produced across Canada and in Europe.
His early works focus on the fast-living, free-spending young and their lack of focus. In his plays Cul sec (Théâtre Petit à Petit at Espace Go, 1995, dir.René Richard Cyr) and Les gagnants (Nouvelle Compagnie Théâtrale / Théâtre Denise-Pelletier, 1996), he portrays a soulless, aimless and often cruel world where women are treated like garbage and men and their credit cards are the centre of the universe. Cul sec was translated as Fast Lane by Shelley Tepperman in 1995; Les gangnants was translated by Tepperman as The Winners in 1997, and premiered in English in 1999 by Ruby Slippers Theatre in Vancouver. In Le Souper va être froid (Théâtre Petit à Petit, 1996), a hungry boy is invited into a home for a meal, and finds that the family has even more social problems than him.
Archambault's tone softened, somewhat, in his work 15 secondes, presented as part of the 1997 Juste Pour Rire. It won the Masque Award for best private production and revelation of the year at the 1999 gala. It subsequently won the Governor General's Award; and was presented, in an English translation by Bobby Theodore,/cross> by Great Canadian Theatre Company, Belfry Theatre and Alberta Theatre Projects, all during the 1999/2000 season. 15 seconds is a touching and very funny work, which tells the story of a young man with cerebral palsy, his unemployed brother and a young woman both brothers love.
Adieu, Beauté:la comédie des horreurs (1997), in which two terrorists kidnap Miss Laval to protest against the discrimination against those who are "challenged" in their appearance, also garnered a Masque for best regional production. Code 99 was premiered by the Conservatoire d'art dramatique de Montréal (May, 1999) and was revived at the Nouvelle Compagnie Théâtrale / Théâtre Denise-Pelletier in the 1999-2000 season. La Nostalgie du paradis was premiered at the Théâtre d'Aujourd'hui in October, 2000.
More recent plays satirize the egocentric or idealistic values of a materialistic middle class. C'est devenu gros (It's Grown Big, written with Marie-Hélène Thibault (Le Petit Théâtre du Nord, 2000) traces the history of a pregnancy.
La société des loisirs (Théâtre de la Manufacture 2003), translated by Bobby Theodore as The Leisure Society (ATP playRites 2005) is probably one of his more successful plays, comparable in its bleak social satire and black humour to Albee's Who's Afraid of Virginia Woolf?. According to critic Jerry Wasserman, it is "a lacerating x-ray of yuppie life in our own time" which "alternates uproariously funny and gaspingly horrifying moments as it excavates the dark, desperate lives of a couple who seem to have it all," but whose lives are desperately sterile. Their facade is undermined by the visit of a single, swinger friend and his much younger girlfriend. The play won a Masque Award for original text.
Les frères Laforêt (Janvier Toupin Théâtre d'Envergure, 2007) shows how two very different brothers come to terms with their father's death. Enfantillage comprises 16 different responses to parentage (Petit Théâtre du Nord at Théâtre la Licorne 2013). In Tu te souviendras de moi (You Will Remember Me (playRites 2014, trans, by Bobby Theodore), a family struggles to care for the aging patriarch, a dynamic community leader and intellectual giant, who now suffers the consequences of dementia.
With Une mort accidentelle (Ma dernière enquête) (Théâtre de la Manufacture at Théâtre de la Licorne 2017), Archambault returns to black comedy and social satire in the depiction of a society obsessed by social media and TV personalities: A depressed detective investigates the accidental murder of a TV host by a singing celebrity, as parents seek to profit from the disaster.
Source: Centre des auteurs dramatiques
Profile by Gaetan Charlebois and Anne Nothof. Additional information provided by Bobby Theodore.
Last updated 2020-07-17