Tepperman, Shelley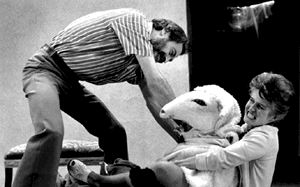 One of Canada's pre-eminent play translators, born in Toronto, and based in Quebec, Shelley Tepperman has a BA in Canadian Studies from the University of Toronto and an MA from the Université du Québec à Montréal in Art Dramatique. She specialises in Quebec and Latin American theatre. Her thirty play translations — several of which were nominated for a Governor General's Award — have been produced on CBC radio and on stages throughout North America.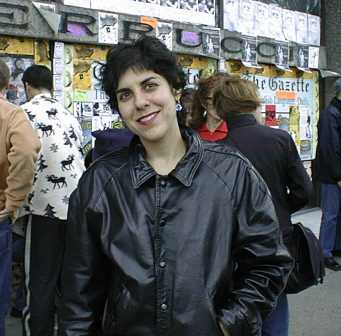 Shelley Tepperman
Among her translations are Wajdi Mouawad's Alphonse and Journée de noces chez les Cromagnons as Wedding Day at the Cromagnons; Dominic Champagne's La Répétition as Playing Bare and La Cité Interdite as The Forbidden City; Michel Monty's Accidents de parcours as Freak Accidents; Suzanne Lebeau's Comment vivre avec les hommes quand on est un géant as A Giant in the Land of Men; Yvan Bienvenue's Règlement de contes as Unsettling Accounts and In vitro (same title); and François Archambault's Cul Sec as Fast Lane and Les Gagnants as The Winners. She translated Mexican Sabina Berman's Molière (the work was presented as part of the 2000 On The Verge Festival of New Works, Ottawa); and Serge Boucher's 24 Poses as 24 Exposures.
Her recent play translations include The Deliverance (La Délivrance) by Jennifer Tremblay (Stellar Quines, 2015); In My Paper House (Dans ma maison du papier j'ai des poèmes sur le feu) by Philippe Dorin (Théâtre les Deux Mondes, 2014); The Carousel (Le Carrousel) by Jennifer Tremblay (Nightwood Theatre, 2014); Pacamambo by Wajdi Mouawad (Canadian Rep Theatre, 2013); The Door of No Return (La Porte de Non-Retour) by Philippe Ducros (Hôtel-Motel at the FTA 2011); The Poster (L'Affiche) by Philippe Ducros (Teesri Duniya Theatre, 2011); The List (La Liste) by Jennifer Tremblay (Great Canadian Theatre Company/Nightwood Theatre 2010); Life Savers (Les bonbons qui sauvent la vie) by Serge Boucher (Ruby Slippers Theatre, 2009); and Tideline (Littoral) by Wajdi Mouawad (Factory Theatre 2005).
Shelley Tepperman is a multilingual dramaturg (French, Spanish, Italian) who specializes in helping cultural works transition to new contexts. She is also a filmmaker and works in documentary television as a writer, director and story editor.
She has worked as artistic co-ordinator of Theatre Plus, and has been associate director of Montreal's Street People Theatre. She has also co-ordinated the 1993 conference for the Literary Managers and Dramaturgs of the Americas.
Shelley Tepperman has a sensitive ear and profound knowledge of Quebec idiom.
Profile by Gaetan Charlebois. Additional information provided by Alvina Ruprecht.
Website: http://shelleytepperman.ca
Last updated 2021-11-29