Ruprecht, Alvina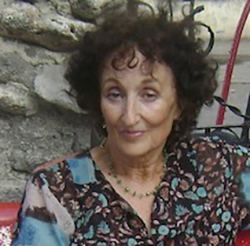 Alvina Ruprecht
Theatre critic and academic, born in Ottawa, Ontario. She obtained her B.A. in French literature at Carleton University, studied theatre history at the Sorbonne, Paris, finished her M.A. at McGill and obtained her Ph.D. in French at the University of Ottawa with a thesis on Quebec theatre.
She has taught at the University of the Saar (Germany), at the Instituto politecnico nacional in Mexico City, and at the Université des Antilles et de la Guyane (Campus Fouillole, Guadeloupe). Alvina Ruprecht is presently Professor Emerita at Carleton University, and Adjunct Professor in the Theatre Department at the University of Ottawa.
A member of the Quebec Association of Theatre Critics as well as of the Canadian Theatre Critics Association, she has been observing theatre in the Ottawa and Montreal area for many years, and has reviewed English and French theatres for CBC Radio (Ottawa) and occasionally for French-language radio since 1981. She is also co-President of the Canadian Theatre Critics Association.
During her three-year stay in Mexico and Germany as well as her years of study in France, she has seen theatre productions in Germany, France, Portugal, Spain and in Latin America (Mexico, Brazil, Cuba) and the Caribbean where she presently conducts research on performance theory, dramaturgy and the history of the theatres in Martinique, Guadeloupe, Guyane, Haiti, Jamaica and Trinidad. Ruprecht saw productions of Derek Walcott's work in Jamaica and the original production of The Kiss of the Spider Woman adapted by Puig to the stage in Rio de Janeiro when he first arrived from Argentina. She followed the beginnings of the movement 'Panic' through the work of Jodorowsky in Mexico City before he moved to France and worked backstage with Jorge Lavelli, the French director, when he first arrived in Paris from Argentina.
Since returning to Canada, she has closely followed the evolution of theatre at the National Arts Centre in Ottawa and of theatre in Quebec. Aware of the changing face of the Canadian population, she has researched the theatres of the Caribbean and in 1997 organized, in collaboration with the Theatre Department of the University of Ottawa, the first colloquium ever held on the theatres of the French-speaking Caribbean.
Alvina Ruprecht has published in the Cahiers de théâtre Jeu, Theatre Research in Canada, Theatre Studies, Voix et images, L'Annuaire théâtral (the publication of the Société québécoise d'études théâtrales) as well as in journals in Germany, France, Great Britain and the Caribbean. She contributed a chapter on Festivals in Quebec to the second volume on French Canadian Theatre (1975 to 1995) published by the Centre for Research on French-Canadian Civilisation at the University of Ottawa and is co-editor of a book on the globalization of culture throughout the Americas, The Reordering of Culture, Latin America, the Caribbean and Canada in the 'Hood.' She has recently published Les théâtres francophones du Pacifique Sud, Ed. Karthala, 2017.
Last updated 2021-09-25