Teesri Duniya Theatre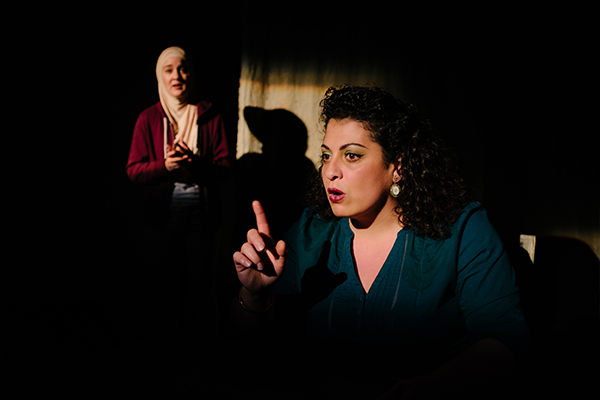 Birthmark by Stephen Orlov, 2018, directed by Michelle Soicher and Liz Valdez, Photo by Jaclyn Turner, left: Dalia Charafeddine as Karima, right: Natalie Tannous as Jamila.
Theatre company in Montreal, Quebec, founded in 1981 by Rahul Varma and Rana Bose as a culturally inclusive company where minority and mainstream artists could share the same stage. The name, "Teesri Duniya" is Hindi for "Third World"; its mission is to provide opportunities to theatre artists of diverse cultural and ethnic backgrounds.
Rahul Varma is Artistic Director.
As on 2022, during its thirty-one years, Tessri Duniya has produced sixty-five plays by indigenous playwrights and people of colour. Productions have included many of Varma's works (in Hindi until 1985): Job Stealer (co-written with Helen Vlachos and Ian Lloyd-George, 1989); Land Where the Trees Talk (1990); and the breakaway success Counter Offence, which was presented originally in 1996 in English to virtually unanimous praise for both the author and company. It became a rare case of English-language ethnic theatre being translated into French and succeeding again in that language (L'Affaire Farhadi, translated by Pierre Legris, at Théâtre la Licorne, 1999). The English version was remounted in 2022.
Another high profile production was the Wajdi Mouawad staging of Jason Sherman's Reading Hebron in 2000.
In 2001, Teesri Duniya staged Varma's Bhopal, which interrogates the catastrophic consequences of a toxic methyl isocynate gas leak from a Union Carbide plant in northern India. Bhopal has been produced in French, English and Hindi in both Canada and India. Varma's Truth and Treason, a complex consideration of the "war on terror" premiered in 2009.
Other productions hosted by Teesri Duniya include: The Adventures of Ali & Ali and the Axes of Evil by Guillermo Verdecchia, Camyar Chai and Marcus Youssef (2004); and Miss Orient(ed) by Nina Lee Aquino and Nadine Villasin (2005).
In 2010, Teesri Duniya staged People Power, a theatrical narrative built on the memories of second-generation Filipino-Canadians recounting family memories and personal experiences during the 1986 People Power revolution in the Philippines (dir. Nina Lee Aquino); and Almighty Voice and His Wife by Daniel David Moses (dir. Michael Greyeyes).
In 2011, Teesri Duniya opened its 31st season with the English premiere of The Poster, a translation by Shelley Tepperman of L'Affiche by Phillippe Ducros (dir. Arianna Bardesono), which was named play of the year by l'Association quebecoise des critiques de théâtre.
The 2012 season featured State of Denial by Rahul Varma (dir. Liz Valdez). Set in contemporary Canada and Turkey of 1915, State of Denial links the Armenian genocide of 1915 with the genocide in Rwanda in 1994-95. The second main production was Kevin Loring's Where the Blood Mixes. The 2013 season included Letters to My Grandma by Anusree Roy. In 2015, the Company reprised State of Denial, and produced The Refugee Hotel by Carmen Aguirre (dir. Paulina Abarca-Cantin). The play was reprised in 2016 for 200 Syrian refugees, funded by a grant from the Canada Council for the Arts, with Spanish surtitles, and a post-show discussion using an Arabic translator.
For the 2017 season, Teesri Duniya produced a French translation of Kevin Loring's Where the Blood Mixes, entitled Là où le sang se mêle (trans. and dir. Charles Bender). Stephen Orlov's play, Birthmark was produced in 2018, exploring the cultural divide between Canada's Jewish and Palestinian diasporic communities in terms of two Montreal families.
The Company presents the annual Fireworks Festival of staged readings of new works.
In 2018, Teesri Duniya Theatre was awarded Le prix Équité, diversité et inclusion, by le Conseil des arts de Montréal and the Montreal English Theatre Awards.
website: www.teesriduniyatheatre.com
Last updated 2022-07-02