Abarca-Cantin, Paulina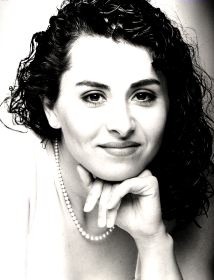 Paulina Abarca
Actor/director born in 1965 in Chile. She emigrated to Montreal at the age of 8. Paulina Abarca-Cantin studied at the University of Toronto, the Banff Centre for the Arts, and the National Theatre School of Canada.
She was founder and Artistic Director of Montreal-based Street People Theatre Company (SPTC) 1984-1997. She has directed at the National Theatre School, Playwrights' Workshop, and Centaur Theatre (Tall Tales of a Generation, created by her own company Street People Theatre; and The Occupation of Heather Rose). She also directed the Canadian premiere of Virginia Woolf's Freshwater at the Shaw Festival. In 2016, she directed a production of The Refugee Hotel by Carmen Aguirre for Teesri Duniya Theatre.
Along with TV and film credits, she has performed in Canadian Stage's The Bourgeois Gentleman, Tarragon Theatre's Blood Wedding, in the National Theatre of Chile's production of Uncle Vanya (as Yelena) and in the English-language premiere of Playing Bare/La Répétition, at Théâtre La Chapelle (Montreal, 1993 - she also directed the production), and in the Victoria Playhouse's Jennie's Story.
From 2007 to 2010, she directed Studio XX, the Plateau-Mont-Royal art space - a bilingual feminist digital art centre which highlights "the territories, perspectives, and creative actions of women in cyberspace" (website) while demystifying and deconstructing digital technologies through critical experience.
Of her experience directing The Refugee Hotel, she has said: it is "the kind of play that drew me to the theatre in my youth in the first place and that sealed my desire to become an artist. It is theatre that addresses the state of the world and the effect of major events on human beings. It's Brecht's idea of theatre as voice for the oppressed not as a forum for the bourgeoisie looking for diversion. While this play is occasionally very funny, its purpose is not to entertain or to enrapture audiences with aesthetic excellence. It is a play crafted to inspire you to think about politics, about the world and your role in it" (Montrealrampage.com 21 Oct 2016).
Last updated 2019-11-07