English Language Theatre in Quebec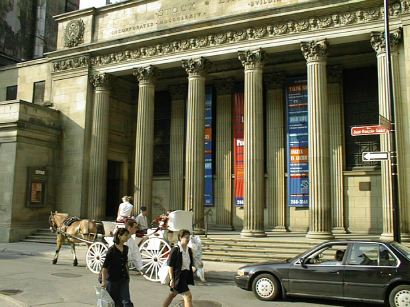 Centaur Theatre, presently the English language theatre in Quebec
For over three decades English-language theatre in Quebec was dominated by two companies, both in Montreal: Centaur Theatre and Saidye Bronfman Centre (now Segal Centre for Performing Arts. But anglophone theatre has existed all over the region since the Battle of the Plains of Abraham and, in some cases, has been the dominant theatre (not solely because the English were the conquerors but, also because the Catholic clergy - which dominated francophone educational and social life - frowned on theatre). Evidence of the strength of anglo theatre in Quebec can be seen in the building of Theatre Royal in Montreal (and later another of the same name in Quebec City), in Allen's Company of Comedians, in the creation and strength of Montreal Repertory Theatre and in the activities of Joy Thomson among many other entrepreneurs.
Companies, venues and artists have come and gone in Quebec. The post-René-Lévesque-election anglo exodus of 1976 (which saw over 100,000 anglophones leave Quebec) had a profound effect on theatre in two ways: artists were lost and a large group of the ever-important upwardly-mobile anglo theatregoer was lost. What had existed before 1976, no longer existed. Companies in Quebec folded or began to have difficulty surviving. The Saidye Bronfman Centre had to reassess its theatre activities. Phoenix Theatre (founded by Maxim Mazumdar), Group of Four Theatre (founded by Gaëtan Charlebois), La Poudrière (founded by Jeanine Beaubien), Painted Bird Theatre (founded by Michael Springate), Association of Producing Artists (founded by Jack Langedijk), the Quebec Drama Festival, Revue Theatre and Quebec City Summer Stock Theatre and the Montreal Star (the important second critical voice in Montreal) all folded in the twenty years following the election.
What is striking is that the alternative and experimental theatre has risen to fill the void, producing works in virtually any space available (storefronts, warehouses, bars, parks). Among the artists who have produced exciting work it is important to mention Stacey Christodoulou (with her The Other Theatre which often performs bilingually) and Joseph Khiatta, the former mounting a decidedly feminist theatre, the latter a gay and lesbian theatre (and they often work together as well). The creation of Repercussion Theatre which plays to very large audiences across the island of Montreal is another good sign. The formation of the Fringe Movement in 1991 has also encouraged the creation of new theatre and spurred artists on as well. From the Fringe have come some decidedly un-mainstream voices including David Gobeil Taylor and Steve Galluccio who both produced works with a Gay edge (Galluccio's Mambo Italiano crossed over into the mainstream and opened at Compagnie Jean-Duceppe in 2000). Peopling the works of these creators are a solid core of young actors trained at the National Theatre School of Canada, Dawson College, John Abbott College or at Concordia or McGill. Worth mentioning are France Rolland, Deena Aziz, Paulina Abarca-Cantin and Donovan Reiter.
David Fennario, once a Centaur mainstay, writes for theatre only occasionally now. Vittorio Rossi filled his shoes as a Centaur favourite until Maurice Podbrey retired as artistic director of the company.
Black Theatre Workshop, Youtheatre, Geordie Theatre, several Gilbert and Sullivan groups and the sturdy university groups like Players' Theatre (McGill), have also made substantive contributions.
By summer, 2001, the theatre scene looked particularly vibrant again for anglo theatre in the province. Just For Laughs had decided to produce locally after closing down the English theatre wing in 2000 (they presented Mom's The Word); summer companies were doing booming business and the Centaur, Saidye Bronfman and Fringe Festival had had good seasons.
In 1999, anglophone critics joined together to form the Montreal English Critics Circle. They conferred their first awards to anglophone theatre in Montreal in September, 1999.
See also: Canadian Theatre History for history of theatre in Quebec post-"Conquest"; and Quebec Drama Federation
Source: Pat Donnelly. "Summer of Success." The Gazette, Montreal, 7 July 2001.
Profile by Gaetan Charlebois.
Last updated 2019-11-07