Fringe Movement
The fringe movement originated in Scotland as an alternative to the prestigious Edinburgh Festival, which features opera, large-scale theatre productions, and music. The Fringe Festival soon outgrew the main festival, and still features hundreds of productions in found spaces throughout the city. Using the Edinburgh Fringe as a model, theatre producer Brian Paisley established the Edmonton Fringe Festival in 1982. Other cities such as Winnipeg, Saskatchewan, Vancouver, Victoria, and Halifax followed suit, and Canada now has more Fringe Festivals per capita than any other country in the world, with Edmonton holding onto the claim for the largest in Canada.
Fringe theatre is both democratic and accessible. Each festival follows a series of basic guidelines which typically include low admission prices (the average ticket price is $12). Companies and productions for a festival are chosen on a first-come first-served basis at some festivals and by lottery at others. Fringe organizations which go the former route send out applications to all companies interested, and the first applications returned after a given date - and based on the postmark and handicaps [ie: distance of an applying company from the organization offices] - are the companies which appear in the festival for that year. Certain quota guidelines may apply to some festivals; for instance, the Montreal festival tries to ensure that there are a certain number of French-language companies). There are no constraints on content or title, and no censorship is applied, although two notorious Canadian fringe were censored by community pressure: The Happy C**t and The F**k Machine. Some Fringes charge guest companies extra for the length of a work as it may limit how many works can play the same hall on the same day. Fees paid by the participating companies must also be kept as low as possible (in Canada they range from $250 to $1000). The Fringe administrators usually provide venues and accommodation for the visiting companies. All monies paid by spectators at a given show go to the creators/performers, with a small administration fee going to the festival. No latecomers are admitted, and no refunds given. Audience members are encouraged to spread the word about shows they liked or disliked, and word of mouth can make or break a Fringe production as critics cannot usually review all the productions in a given Fringe. Some festivals set up bulletin boards and websites or blogs where audience members can post their opinions. Typically, a production has one hour to set up, one hour to take down (though this rule can vary from one festival to the next). There are some more specific rules which apply to each festival but it is clear that a fringe festival can, and does, represent the broadest spectrum of small-scale theatrical activity from the absolutely execrable, to decent-amateur, to magnificent solo and group efforts from artists who understand the dynamics of the Fringe Festival.
The Fringe has become the essence of theatrical development, in this country and abroad. Whereas at one time an artist's resumé was likely to contain references to the Stratford Festival, the National Theatre School of Canada or regional houses, more and more resumés in Canada contain a reference to a Fringe Festival.
Outdoor theatre performances in adjacent parks and streets by buskers, comedians, and acrobats entertain the fringe crowds on a donation bases, and may attract large crowds, which adds to the festival atmosphere, along with food venues and craft shops.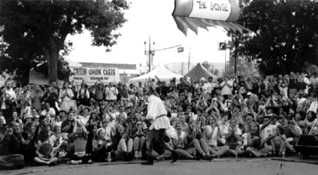 Orlando, Florida's Sak Theatre (Men in Tights) performing outdoors at the Edmonton Fringe; the company's motto: "If we can't make you laugh, you're dead." (Photo provided by David Cheoros)
Actors like Rick Miller, Jeff Haslam, Jeff Page, Coralie Cairns Sandra Shamas, France Rolland and Stacey Christodoulou; and and the works of playwrights such as Daniel MacIvor, George F. Walker, Joanna McClelland Glass, Wendy Lill, Aviva Ravel, Brad Fraser, Steve Galluccio, Ron Chambers, Marty Chan, Stewart Lemoine, David Belke have been Fringe favourites. But so, too, are the less outré works of dance, theatre and music that could not find a home (for reasons of rental cost) outside of a Fringe Festival. Certain Fringe companies, like Gams on the Lam from the United States, or Ghost River Theatre, from Calgary, develop a devout following on the Canadian and international fringe circuits.
It is also becoming clear that the Fringe Festivals are serving as alternative/experimental festivals for works which, outside of Toronto, would never be performed. There is a higher quota of gay and lesbian works in an average Fringe than there is in an average city's theatre season. Cities who do not have a Primus, Carbone 14 or Robert Lepage, are also getting the chance to see multidisciplinary works and, by such contact, becoming open to the creation of such works within the city's ongoing cultural life.
Also, and this is an important evolution in Canadian theatre, the Canadian and international Fringe circuit is keeping many artists working all year round on a theatrical product which they have often created and wish to keep alive.
Among the cities and towns which have or have had fringe festivals in Canada are: Edmonton, Montreal, Saskatoon, Vancouver, St. John's, Halifax, Peterborough, Lloydminster, Kelowna, Abbotsford, Duncan, Nanaimo, Toronto, Winnipeg, Ottawa and Victoria. In 1999, Calgary, Thunder Bay, Prince George and Athabasca joined the Fringe circuit.
See also: Fringe Theatre Adventures
Canadian Association of Fringe Festivals: www.fringefestivals.com
Profile by Gaetan Charlebois. Additional information provided by Alan Lovett, Richard Cheoros, Jeff Haslam and Anne Nothof.
Last updated 2015-04-14