Fringe Theatre Adventures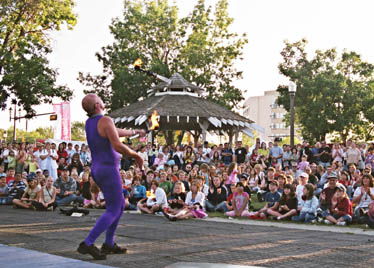 Company in Edmonton, Alberta, founded in 1980 as Chinook Touring Theatre; the name changed to Fringe Theatre Adventures in 1995. Its mandate is to create theatre that challenges and celebrates the cultural fabric of the community, with an emphasis on new and emerging artists, audiences and forums.
It stages the Edmonton International Fringe Theatre Festival, produces a season of theatre for young audiences (Fringe Theatre For Young People), presents touring and local theatre projects for adult audiences (Beyond the Fringe), offers classes and workshops, and runs The Arts Barns, a 45,000 square foot multi-purpose theatre facility in the heart of Edmonton's Old Strathcona district.
Chinook Theatre was started by Brian Paisley as a touring theatre specializing in new works for young audiences. In 1982, the company started North America's first Fringe Festival, and the event quickly became its primary activity. The Edmonton Fringe Festival has hosted over 2,000 productions, and remains second only to the Edinburgh Fringe for scope and popularity.
In 1995, Fringe Theatre Adventures took on the lease of the Bus Barns, an old municipal bus garage. Christening it The Arts Barns, Fringe Theatre Adventures has been renovating it into a multi-use facility that features a 250-seat proscenium theatre, a large multi-use theatre space, two classroom/rehearsal rooms and office/meeting space.
Rooted in the community, Fringe Theatre Adventures has commissioned work from playwrights Stewart Lemoine, Marty Chan, Wes Borg, Chris Craddock, Tololwa Mollel, and Trevor Schmidt.
With a budget of approximately $2 million per year, Fringe Theatre Adventures is the second-largest theatre company in Edmonton.
The current Artistic Director is Murray Utas.
Website: www.fringetheatreadventures.ca
Last updated 2017-08-17