Schmidt, Trevor
Trevor Schmidt
Multi-talented actor, director, designer, and playwright, based in Edmonton Alberta, and Artistic Director of Northern Light Theatre since 2002. Trevor Schmidt's tenure at Northern Light has been characterized as pushing boundaries, and specializing in "startling choices" (Liz Nicholls, Edmonton Journal 16 Nov 2012).
Born in Saskatoon, Saskatchewan in 1970, he moved to Calgary with his family at the age of ten, and studied theatre at the University of Calgary (major in acting and minor in design). At 22, he landed a coveted spot in a Banff Centre for the Arts double bill that went to Toronto. There, "he met one of his two life-changing theatre mentors, Seana McKenna ('a goddess'). The other is Maralyn Ryan, who talked him into moving to Edmonton" for a role in Times Square Angel in 1994 (Liz Nicholls, Edmonton Journal 14 Nov 2007).
Schmidt has been awarded three Sterling Awards for playwriting (The Watermelon Girls, Change Room, and Flora & Fawna's Field Trip). His plays have been produced across Canada and in Australia (Mabel Stark!). He has created and choreographed a one-woman dance piece entitled Marked for the Expanse Dance Festival that was extended and nominated for a Sterling for Outstanding New Work.
Schmidt has often collaborated with Darrin Hagen in writing cross-dressing comedies for "Guys in Disguise." In their musical comedy entitled Klondykes, two gay women – barred from the Yukon because they are not accompanied by a man – take on the roles of man and wife in order to join the Klondike Gold Rush (Theatre Network 2016). Schmidt wrote the book and lyrics, and designed the set and costumes. With Hagen he has written and acted in several farcical plays for the Edmonton International Fringe Festival. For the 2016 Fringe they collaborated on Prepare for the Worst, in which two housewives in the 1950s prepare recipes for the end of civilization.
His many directing credits include How Heap and Pebble Took on the World and Won (NLT 2012), Mary's Wedding (Capital Theatre, Fort Edmonton, 2013), and the NTL premiere of The Good Bride by Rosemary Rowe (2015). He has won two Sterlings for directing (the Canadian premieres of The 4th Graders Present an Unnamed Love-Suicide, and Carol Anne Duffy's The World's Wife).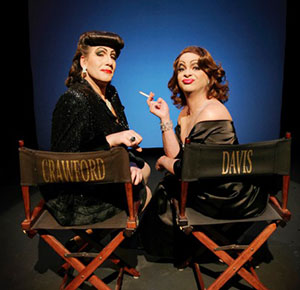 BitchSlap! with Darrin Hagen (l.) and Trevor Schmidt
He has designed many of the NLT productions with ingenuity and imagination, creating a wide range of sets and costumes for productions in the tiny black box theatre space of the PCL Studio in the ATB Arts Barns.
As an actor, he has appeared in Angels in America Part 1: Millennium Approaches, Love! Valor Compassion!, Women Beware Women, The Busy World is Hushed (Outstanding Male Lead Actor nomination), and created the role of Bette Davis in the international touring success BitchSlap! (2005) by Darrin Hagen about the infamous rivalry between Bette Davis and Joan Crawford. He received the Outstanding Fringe Performance award for the one-man show Coffee Dad, Chicken Mom and The Fabulous Buddha Boi by Nick Green, which toured to New York as part of the Frigid Festival. In 2015, he appeared as the cross-dressing Philippe, duc D'Orlean in Christina~Philippe by Per Brask.
Trevor Schmidt has also appeared in the series, Delmer and Marta for APTN.
He was awarded the Dialog Award for Excellence in Artistic Direction as part of the Mayor's Evening for the Arts. He sits on the advisory boards of the MacEwan University Theatre Arts and Red Deer College Theatre Performance and Creation program, and is an Artistic Associate of "Guys in Disguise" theatre company.
Source: Northern Light Theatre website: www.northernlighttheatre.com
Profile by Anne Nothof, Athabasca University
Last updated 2019-03-05