Miller, Rick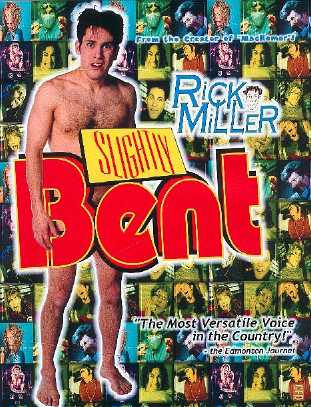 The Montreal
Fringe Movement
flyer for Miller's 1999 work,
Slightly Bent
(designed by Craig Francis)
Actor/comedian/writer based in Toronto Ontario with a keen ability for impersonating just about anyone.
He studied architecture, fine art and acting in Montreal, and jumped into public notice with his first work, a 1996 solo called MacHomer, a retelling of Macbeth using the voices from the Fox animated television series, The Simpsons. It was an instantaneous hit at the Fringe Movement. It has subsequently played in 160 cities across Canada (including the Stratford Festival in 2012) and in the US, and has been seen by over 500,000 people.
He is Artistic Director of WYRD, a company he formed to devise and produce multi-disciplinary theatre, in which he has starred or which feature his wife, Stephanie Baptist. These include Amazeme, babaloo&ganoosh, Art? and Slightly Bent (1999) which won the Just For Laughs best comedy award at the Montreal Fringe. In collaboration with Daniel Brooks and Necessary Angel, he created and performed in Bigger than Jesus in English and French, and HARDSELL (Factory Theatre 2011).
He has also appeared in the Just For Laughs Festival, the Foolproof Comedy Fest in Seattle and, in 2000, at the Edinburgh Fringe Festival. He has acted in Allan Sandler's productions of Jeanne and Grease (in French); and in the Soulpepper Theatre Company production of Present Laughter(July, 2001). He has appeared in Robert Lepage's The Geometry of Miracles/La géométrie des miracles (1999/2000), which toured internationally; and in Lepage's film of John Mighton's Possible Worlds. He collaborated with Lepage in the creation of the nine-hour show Lipsynch which has toured around the world.
In 2015, he launched BOOM in a Citadel Theatre/Stratford Festival co-production. In this one-man show, he explores the politics, culture, and music of the Baby Boomers, framed by two historically disastrous booms, the dropping of the atomic bomb on Hiroshima, and the explosion of Apollo II. Since then, he has launched BOOM X (now on tour) and BOOM YZ (premiering in 2021).
For three years he hosted ABC's series Just for Laughs, and he has voiced several hit cartoons.
Website: www.rickmiller.ca
Profile by Gaetan Charlebois and Anne Nothof.
Last updated 2021-05-18