Citadel Theatre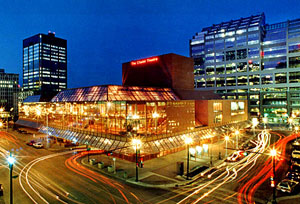 Citadel Theatre
Photo by Ed Ellis, Ellis Brothers Photography
Theatre in Edmonton, Alberta, founded in 1965 by Joseph Shoctor, David Bentley, and Sandy Mactaggart. It was initially located in the Old Salvation Army Citadel; hence its name. The first Artistic Director was John Hulbert, from the Drama Department at Allegheny College in Pennsylvania, and the first production was Edward Albee's Who's Afraid of Virginia Woolf, directed by and starring Bernard Engel of the University of Alberta's Drama Department.
In 1976 the Citadel Theatre relocated to a stunning new venue (designed by Diamond Myers Wilkin Associated Architects with consultation from Phillip Silver and Andis Celms) housing three theatre spaces: the Shoctor, a 685-seat theatre with a proscenium stage; the Rice, a 250-seat flexible studio space (now a cabaret space); and the Zeidler, with 240 seats, used for films, lectures, young people's theatre. and, recently, the improv theatre company, Rapid Fire. In 1984 a fourth space was added, the Maclab Theatre, with a thrust stage, and three-quarters in the round raked amphitheatre with 686 seats.
From 1966 to 1968 the Artistic Director was Robert Glenn, an American who knew little about the local theatre scene, but who programmed a balanced repertoire while testing audience response by mounting a production of Edward Albee's obscure absurdist play, Tiny Alice (dir. Kurt Reis). He also initiated The Citadel School of Performing Arts for young people.
Sean Mulcahy was A.D. from 1968 to 1973. With a background at the Abbey Theatre in Dublin, he not surprisingly directed a number of Irish plays, including Philadelphia, Here I Come by Brian Friel in the 68/69 season, The Shadow of a Gunman by Sean O'Casey in 69/70, and a stunning production of The Quarefellow by Brendan Behan in 71/72. He also directed an English translation of a Quebec play about the divisions in a family occasioned by political differences, Yesterday the Children were Dancing by Gratien Gelinas. Citadel on Wheels/Wings, initiated in 1968 by Miriam Newhouse, then headed by Irene Watts, Keith Digby, and Frank Norris, toured to schools and communities through northern Alberta and the Northwest Territories. Most of its productions were written or adapted by Canadian playwrights.
The theatre flourished during the oil boom of the late 1970s under Artistic Director John Neville, who relocated to Edmonton from London for his tenure as A.D. from 1973 to 1978. Neville actively encouraged the production of Canadian plays, and established a second stage (Theatre Too) for more challenging works such as Samuel Beckett's Endgame in which Neville appeared as Clov in a memorable and unsettling performance. In the 1974/75 season, Neville produced Forever Yours, Marie-Lou by Michel Tremblay on the main stage, and Babel Rap by John Lazarus (dir. Scott Swan), and Battering Ram by David Freeman (dir. Irene Watts) on the second stage. For the 1975/76 season, Citadel Too featured A Compulsory Option by Sharon Pollock (dir. Keith Digby); a moving production of Hosanna by Michel Tremblay (dir. Neville), with Patrick Christopher-Carter as Hosanna and Jean-Pierre Fournier as Cuirette; and You're Gonna be Alright, Jamie Boy by David Freeman (dir. Digby).
The first production in the large Shoctor Theatre in new Citadel complex (1976/77) was Romeo and Juliet starring Brent Carver as Romeo. This was followed by Peter Shaffer's Equus in the Shoctor, setting the tone for imaginative, controversial productions of contemporary works. Theatre artists from around the world began to direct and perform at the Citadel, including Dame Peggy Ashcroft in a 1977/78 season production of Beckett's Happy Days, in which Neville also performed (dir. Sir Peter Hall). The smaller Rice Theatre featured Canadian plays by Beverley Simons (Crabdance 1976/77, dir. Malcolm Black), and by Sharon Pollock (The Komagata Maru Incident 1976/77 dir. James DeFelice), and by Rex Deverell (The Boiler Room Suite 1977/78, dir. Lawrence Seligman).
In 1978 British director Peter Coe began a two-year tenure, importing big-name "stars" and producing Broadway-style theatre. Ron Moody (Oscar winner for his role as Fagan in Oliver) appeared in a Nazi-era setting of Richard III, and Glynis Johns (of Mary Poppins fame) appeared in a musical version of Harold and Maude. The company tried out extravagant musicals--like Flowers for Algernon and Hey Marilyn! (a Canadian musical about Marilyn Munroe by Cliff Jones, and starring Lenore Zann) for production in London and New York, with limited success. However, under Coe's tenure George Ryga's The Ecstasy of Rita Joe, with Susan Andre in the lead role (dir. Randy Maertz) appeared on the Shoctor stage in the 1978/79 season; and Sharon Pollock's One Tiger to a Hill (dir. Richard Ouzounian) appeared on the Shoctor stage in the 1979/80 season. Billy Bishop Goes to War by John Gray was also performed on the Rice stage in 1979/80.
From 1981 to 1984, producer Joe Shoctor planned the programming for the Citadel and introduced the first Edmonton International Children's Festival, which ran annually for twelve years. Canadian plays were limited to lighter comedies: The Kite by W.O. Mitchell in the Shoctor; Nurse Jane Goes to Hawaii by Allan Stratton in the Rice (1980/81); The Black Bonspiel of Wullie MacCrimmon by W.O. Mitchell (dir. Frances Hyland) in the Shoctor–-with a curling rink onstage (1982/83). In 1983 a musical interpretation of Mordecai Richler's novel, The Apprenticeship of Duddy Kravitz, entitled simply and aptly Duddy (dir. Brian Macdonald) was field-tested for Broadway.
Gordon McDougall was A.D. for three years from 1984 to 1986, amidst considerable controversy over the appointment of a third British import for the job. However, McDougall supported the production of Canadian plays, including Quiet in the Land by Anne Chislett (dir. James Roy) and Salt-Water Moon by David French (dir. William Fisher) in the 1985/86 season; and Tsymbaly by Ted Galay, and Fire by Paul Ledoux and David Young (dir. Brian Richmond) in the 1986/87 season. McDougall also brought several stunning international productions to Edmonton, including Mephisto (Mann/Mnouchkine).
In 1987 Associate Director William Fisher became Artistic Director for two years. Canadian productions during his tenure were again reduced, but included: Anne Chislett's Another Season's Promise (dir. Linda Moore); W.O. Mitchell's Back to Beulah (dir. Scott Swan); and Nothing Sacred by George F. Walker (dir. Bill Glassco). A notable production of Athol Fugard's The Road to Mecca was performed in the Rice theatre (dir. Linda Moore). In 1988 the Citadel presented the first Teen Festival of the Arts, which ran annually for seven years.
With the appointment of Robin Phillips as Director General in 1990, the Citadel experienced a resurgence of energy, with bold, controversial productions of a wide range of plays, including such Canadian plays as Love and Anger by George F. Walker (dir. Bob White), Amigo's Blue Guitar by Joan MacLeod (dir. Martin Kinch), and The Passion of Narcisse Mondoux by Gratien Gelinas (dir. Peter Moss), all in the 1990/91 season. The next season included Democracy by John Murrell (dir. Phillips), and Letters from Wingfield Farm by Don Needles-–the first of several "Wingfield" plays to tour around Canada's regional theatres for the next twenty-five years. For the 1992/93 season, the Citadel mounted Waiting for the Parade by John Murrell (dir. Susan Cox), Alice and Emily (about Emily Carr's relationship to her sister and her art) by Eileen Whitfield (dir. Floyd Favel), and another production of Hosanna in the Rice theatre (dir. David Mann).
The 93/94 and 94/95 seasons did not include Canadian plays. However, productions of Someone Who'll Watch Over Me by Frank McGuinness (dir. Stephen Heatley in the Rice, and Oh What a Lovely War by Joan Littlewood in the Maclab (dir. Russell J. Kilde) were highlights of their respective seasons.
During the tenure of A.D. Duncan McIntosh, Stewart Lemoine wrote a play for young people entitled The River Princess and the Frozen Town for the Citadel Theatre School. Angels in America Part II by Tony Kushner was directed by local director Jim Guedo, and Raymond Storey's South of China premiered on the Shoctor stage in the 1996/97 season (dir. McIntosh). During the 1997-99 seasons there were no Canadian productions, and the Rice theatre was dark-–even with Stephen Heatley-–a champion of new play development and production--as Associate A.D.
With the return of Bob Baker (formerly A.D. of the Phoenix Theatre) to the Edmonton theatre scene from Toronto's Canadian Stage in 1999, the enthusiastic refrain, "Bob is Back" was chanted by audiences and critics hoping for more larger-scale productions of Canadian works at the Citadel. Baker began his tenure with productions of American and British plays, which he had previously mounted in Toronto--Picasso at the Lapin Agile by Steve Martin on the Shoctor stage, and Popcorn by Ben Elton in the Rice space. However, his first season also included productions of The Aberhart Summer by Conni Massing in the small Rice stage (dir. Heatley). For the 2000/01 season the Citadel hosted a powerful production of the new opera Beatrice Chancy by James Rolfe and George Eliot Clarke.
Baker committed himself to reviving activity on the Rice stage, mounting a more "avant garde" series of American, Irish, and English plays, and including some Canadian works (e.g. Doing Leonard Cohen by Blake Brooker of Calgary's One Yellow Rabbit. On the larger Shoctor stage the Citadel has hosted touring productions of The Drawer Boy by Michael Healey, and mounted a large-scale production of an adaptation of W.O. Mitchell's Who Has Seen the Wind with a stunning set by Terry Gunvordahl. In the 2002/03 season it co-produced If We Are Women by Joanna McClelland Glass (dir. Jim Guedo), and in 2006 Glass's Trying in a co-production with Theatre Calgary (dir. Dennis Garnhum).
Baker brought to the Citadel the works of seminal Canadian playwrights, including Morris Panych: The Overcoat (2007, co-production with Canadian Stage and Theatre Calgary); and What Lies Before Us (2007, Crow's Theatre). Other important productions of Canadian plays include: Colleen Murphy's The December Man (2008); John Mighton's Half Life; a revival of Fire by Paul Ledoux and David Young (dir. James MacDonald); Ronnie Burkett's Billy Twinkle, Requiem for a Golden Boy (2008); Wajki Mouawad's Scorched (dir. Richard Rose); Kevin Kerr's Studies in Motion: The Hauntings of Eadweard Muybridge (2010); Brad Fraser's True Love Lies (2011).
In 2010, an inspired new production of Billy Bishop Goes to War, with John Ullyatt and Ryan Sigurdson (dir. James MacDonald) played on the Maclab stage, the same year that John Gray and Eric Peterson were touring their own version.
In 2013, the Citadel produced Margaret Atwood's The Penelopiad, and hosted a production of 2 Pianos, 4 Hands by Richard Greenblatt and Ted Dykstra, with Greenblatt and Dykstra reprising their roles.
Although many Citadel productions were co-productions or touring productions, Baker committed to premiering one Canadian play for each season, several of which have subsequently played across the country. In 2003, a large-scale production of Einstein's Gift by Vern Thiessen (dir. David Storch), opened on the Maclab stage. In 2005, Thiessen's smaller-scale work, Shakespeare's Will (dir. Geoffrey Brumlik), which provides the wife's jaundiced perspective on the Bard, premiered on the Rice stage. Thiessen's Vimy (2007, dir. James MacDonald), provides a graphic portrait of four Canadian soldiers and a nurse during and after the seminal "nation-building" Canadian battle of World War I. Marty Chan's Chinese/Canadian musical hybrid, The Forbidden Phoenix (dir. Baker) opened on the Shoctor stage in 2008; and Ron Jenkins's solo work Extinction Song (dir. Jenkins) played in the Rice in 2009.
In May 2014, the Citadel premiered Make Mine Love by Tom Wood (dir. Bob Baker), an extravagant interpretation of the mayhem of movie-making in Hollywood in the 1930s, with John Ullyatt as the fallen film idol trying to regain his star status and his former wife, and Rebecca Northan as an opinionated, domineering film diva. The complex set design by Bretta Gerecke moved from a dusty abandoned sound stage to a cabin in the woods.
In 2013, Baker recommissioned the Rice stage as a flexible "cabaret" space, which could be used by other groups. This more casual venue (with tables) worked well for the production of Ronnie Burkett's The Daisy Theatre (Oct 2013).
For the 2015-16 season, to celebrate its fiftieth anniversary, the Citadel included a reprise of its first production, Who's Afraid of Virginia Woolf; BOOM by Rick Miller (co-produced with the Stratford Festival); Evangeline by Ted Dykstra (co-produced with the Charlottetown Festival); The Gay Heritage Project, a new work by Damien Atkins, Paul Dunn and Andrew Kushnir; Chelsea Hotel--The Songs of Leonard Cohen (choreographed and directed by Tracey Power). In June 2015, the theatre was awarded a Sterling for "Outstanding Contribution to Theatre in Edmonton.
During Baker's record tenure as artistic director, Citadel productions enjoyed critical accolades, garnering many Sterling Awards. Theatre seasons typically included opulent musicals like Oliver, Peter Pan, Mary Poppins, and an annual Christmas Carol.
In 2008, Bob Baker introduced the Robbins Academy, a comprehensive program for creative development, in conjunction with the Banff Centre for the Arts. With the commitment to produce two world premieres annually, the Academy offered resources for play development, and actor training. It also supported a Young Company for actors 16 to 21, and the Foote Theatre School, as well as education and outreach programs. The program ran until the 2019 season, when it was discontinued by the new Artistic Director, Daryl Cloran.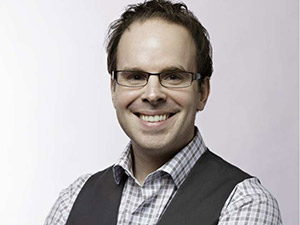 Daryl Cloran
In May, 2016, the Citadel appointed Daryl Cloran as Artistic Director. He has committed to looking for works by Edmonton and Alberta playwrights, who can think on a big scale. He also works collaboratively using unique styles to challenge the traditional actor-audience relationship. His ambition is to make the Citadel "innovative, inclusive, and international." In March 2017, the Citadel hosted a production of Children of God by Corey Payette, a musical about the trauma of residential school which was co-produced by urban ink productions and Raven Theatre, and which Cloran had helped to develop during his tenure at Western Canada Theatre Company.
In April, 2018, the Citadel premiered a new musical by Mieko Ouchi - The Silver Arrow: The Untold Story of Robin Hood (music composed by Hawksley Workman, directed by Daryl Cloran). It provided a new twist on the classic Robin Hood adventure story, featuring a female protagonist and aerial acrobatics; and showcased the participants of the 2018 Citadel/Banff Centre Professional Theatre Program and members of Firefly Theatre & Circus.
In April 2019, the Citadel premiered two linked plays by Kat Sandler, commissioned and co-directed by Cloran. The Party and The Candidate hilariously track the political ambitions of female candidate on two stages of the theatre complex, with the same cast at the same time.
Playwrights Forum, led by Brian Dooley and Colleen Murphy operated for seven years until 2017, working towards playwright development. In 2018, the Citadel launched a play development program called "The Lab" to foster the development of pieces specifically designed for the Citadel's large stages. Playwrights Belinda Cornish, Marty Chan, and Kenneth T. Williams were invited to participate. Reneltta Arluk, Beth Graham, Darrin Hagen, and Kenneth T. Williams participated in the 2018/19 Lab, led by Edmonton playwright and dramaturg David van Belle.
In November 2020, Mieko Ouchi was appointed Associate Artistic Director, in charge of new work, commissions, and artist development.
The Citadel's new productions for Spring 2020 were cancelled because of the Covid-19 pandemic, which closed theatre spaces around the world. In May 2021, when theatres were still closed, the Citadel launched an on-line Collider Festival, with readings of plays by Kareem Fahmy (A Distinct Society); Charlotte Corbeil-Coleman and Hawksley Workman (Almost a Full Moon); Erin Shields (Jane Eyre); Mieko Ouchi (Burning Mom); and Kenneth T. Williams (Paris SK). The Citadel reopened to on-stage productions with The Garneau Block by Belinda Cornish, based on a novel by Edmonton writer, Todd Babiak; and After the Fire by Matthew MacKenzie, an indigenized version of his earlier work Bust, which opened at Theatre Network in 2017. The 2021/22 season also included productions of Jane Eyre by Erin Shields, and The Herd by Kenneth T. Williams.
Website: www.citadeltheatre.com
Further reading: Liz Nichols. https://edmontonjournal.com/entertainment/theatre/50-years-of-the-citadel-edmontons-premier-theatre
Profile by Anne Nothof, Athabasca University.
Last updated 2022-03-31