Guedo, Jim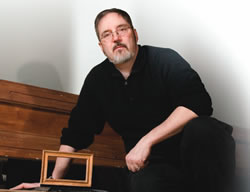 Jim Guedo
Director, actor, designer since 1979, Jim Guedo was born in North Battleford Saskatchewan, and grew up in Battleford, across the North Saskatchewan River. He is currently based in Edmonton Alberta. His work with large ensembles is particularly accomplished, as is his imaginative staging.
Jim Guedo has been Artistic Director of three theatre companies: the Actors Lab in Saskatoon (1985-1987), the Phoenix Theatre in Edmonton (1987-1995) and Sudbury Theatre Centre (1997-2000).
He has directed in theatres across Canada, including the Stratford Festival, Canadian Stage, National Arts Centre, Neptune Theatre, Manitoba Theatre Centre, Globe Theatre, Alberta Theatre Projects, Persephone Theatre, Citadel Theatre, and Free Will Players. Critic Liz Nicholls called his Free Will production of King Lear "a tumultuous, powerful journey" (Edmonton Journal 1 July 2013). In 2015, he directed a strong and convincing production of Coriolanus for Free Will, which enacted the contemporary resonance of Roman politics. His physically comedic production of Love's Labour's Lost for Free Will (2016) was a popular success.
He has introduced over thirty innovative, challenging and controversial plays by American, English, Irish and other international playwrights to Canadian audiences, including Tony Kushner's Angels in America: Millennium Approaches (Manitoba Theatre Centre) and Angels in America: Perestroika (Citadel Theatre 1997); Sam Shepard's A Lie of the Mind and Simpatico (Phoenix Theatre); David Mamet's Speed-the-Plow (Citadel); Jim Cartwright's I Licked a Slag's Deodorant and The Rise and Fall of Little Voice; David Edgar's Pentecost; Howard Korder's Boys' Life; Craig Lucas' Prelude to a Kiss; Conor McPherson's Shining City; Martin Mcdonagh's The Pillowman; and an English translation of Spanish playwright Pau Miro's It's Only Raining in Barcelona (in Fringe Festivals across Canada in 2010).
In December 2014, for his indie company, Wild Side Productions, he directed a powerful, imaginative production of Passion Play by Sarah Ruhl in the theatre lab at MacEwan University, with some of Edmonton's most talented actors, including Jesse Gervais performing three different manifestations of Christus in three different eras; Nathan Cuckow as Pontius Pilate, Amber Borotsik as Mary, Belinda Cornish as Mary Magdelene, and Dave Horak as the Director. In March 2016, he directed the disturbing, ironic play, The Realistic Joneses by American playwright Will Eno for Wild Side Productions with a strong local cast. Wild Side mounted Terminus by Irish playwright Mark O'Rowe in April 2017 at the Arts Barns in Edmonton, with a cast including Guedo's highly talented wife, Christine MacInnis. Terminus is a poetic and purgatorial play, comprising three interconnected monologues by desperate Dubliners. Guedo directed Wild Side's production of Small Mouth Sounds by Bess Whol in March 2019 at the Roxy Theatre, with an accomplished cast acting for the most part without dialogue. In 2020, he directed a moving and pertinent production of The Children by English playwright Lucy Kirkwood, with strong acting by Coralie Cairns, David McNally and Ruth Alexander. He also designed the realistic, detailed set for the Roxy stage -- a cottage on the east coast of England, contaminated by a flooded nuclear power plant.
Guedo has directed many major productions of Canadian plays, including: If We Are Women by Joanna McClelland Glass (Citadel Theatre 2002/03 season); The Coronation Voyage by Michel Marc Bouchard; and Lion in the Streets by Judith Thompson.
His many awards include the City of Edmonton Award for Artistic Excellence (1995) and the Syncrude Innovation Award for Artistic Direction (1994). He was nominated for the Siminovitch Prize in Theatre in 2007.
For directing, he has won the Saskatoon and Area Theatre Award for Shining City by Conor McPherson (Persephone Theatre/Wild Side Productions, 2009), and for Dying City by Christopher Shinn (Fire in the Hole Productions/Live Five 2011). He won Sterling Awards for Pentecost ( Renaissance Theatre Productions, 1997); The Rise and Fall of Little Voice (1995), Mad Forest (1993), Lion in the Streets (1992), Road (1991) and The Wolf Within (1990), all for his productions at the Phoenix Theatre in Edmonton.
As a producer he has won Sterling Awards for Pentecost (Renaissance Theatre Productions, 1997); Dancing at Lughnasa (Pagan Productions, 1996); Mad Forest (Phoenix Theatre, 1993); Lion in the Streets (Phoenix Theatre, 1992) ; Road (Phoenix Theatre, 1991); Oil City Symphony (Phoenix Theatre, 1990); A Lie of the Mind (Phoenix Theatre, 1988).
Guedo has designed sets for theatres across Canada, including: Oleanna and The Shape of Things for Canadian Stage; Present Laughter for Neptune Theatre; The compleat Wrks of Wilm Shkspr [abridged] and Forever Plaid for Piggery Theatre; Old Wicked Songs for Prairie Theatre Exchange; A Guide to Mourning for Alberta Theatre Projects; Perfect Pie for Theatre Network; Gordon Winter, Rabbit Hole; and Shining City for Persephone Theatre. His amazingly versatile set for 9 to 5 (Mayfield Dinner Theatre, Edmonton, 2013) used stylized projected images and movable office modules and furniture which the actors could rearrange during dance routines. Guedo has been awarded the 2008 S.A.T. Award for Achievement in Design, Set and Lights for Someone Who'll Watch Over Me; and the 1994 Sterling Award for Outstanding Set Design for M. Butterfly (Phoenix Theatre).
He has taught in the Drama Departments of the University of Alberta, the University of Windsor, George Brown Theatre School, and the University of Saskatchewan (2003-2011). In 2011 he was appointed director of MacEwan University's Theatre Arts program in Edmonton. Currently he is a coordinator of the program.
Source: University of Saskatchewan Department of Drama website
Profile by Anne Nothof, Athabasca University
Last updated 2020-03-12