Manitoba Theatre Centre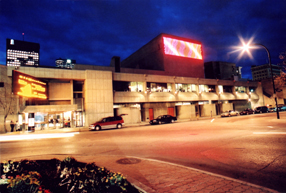 Manitoba Theatre Centre
Company in Winnipeg, Manitoba, created in 1958 by John Hirsch and Tom Hendry from a merger of two companies: Winnipeg Little Theatre and Theatre 77. It is considered the first English-speaking regional theatre in the country. Its mainstage is named the John Hirsch Theatre, and its second stage, the Warehouse, is named after Tom Hendry.
Winnipeg's flagship theatre has been both innovative and adventurous in its productions, and has become somewhat of a model for other "regional" theatres in programming and production. It presents a significant number of premieres, especially at the Warehouse. It has co-produced works with other Canadian theatre companies, and tours productions to schools, in northern Manitoba, and across the country. It also produces the Winnipeg Fringe Festival.
Artistic Directors have included Hirsch, Edward Gilbert, Kurt Reis, Len Cariou, Arif Hasnain, Richard Ouzounian, Keith Turnbull, Rick McNair, James Roy and Steven Schipper. In June 2019, Kelly Thornton began her tenure as MTC's first female AD.
Aside from sales and a huge subscription base, the company is sustained by the arts councils (federal, provincial and municipal) as well as by individual and corporate donations.
Among works presented there are those of Arrabal, Ionesco, Shaw, Orton, Shakespeare, Pinter, and Canadians Allan Stratton, James Reaney, Anne Chislett, Sharon Pollock, John Gray, Maureen Hunter (Atlantis 1996), Joanna Glass, Tomson Highway (The Rez Sisters 1987, and Dry Lips Oughta Move to Kapuskasing 1990). In 2012, MTC remounted The Fighting Days by Wendy Lill, which is set in Winnipeg in the time of the suffragette movement. In January 2018, it presented the popular Canadian musical Come from Away by Irene Sankoff and David Hein, the story of passengers in 38 planes diverted to Gander Newfoundland from New York after the 9/11 terrorist attack, and of the people of Gander who provided shelter, food, and emotional support. The 2019/20 season included Bang Bang by Kat Sandler. In April 2021, when the Covid-19 pandemic closed theatres across Canada and the world, MTC filmed a moving production of The (Post) Mistress by Tomson Highway, with Krystle Pederson as Marie-Louis Painchaud, Naomi Woo on piano, and Neil Watson on sax (dir. Simon Miron), which was available on-line across the country.
The list of notable actors who have worked at MTC would be extremely long as, for a time, the company was considered Stratford Festival West for all the stars who worked there, including Seana McKenna (Macbeth 1990, Medea 1992, and A Streetcar Named Desire 2000); Michael Ball and Fiona Reid (Death and the Maiden 1993).
In 1995 MTC made a lot of noise, world-wide, when it mounted a production of Hamlet starring Canadian ex-patriot actor and teen-idol Keanu Reeves. This was a very good gamble on Steven Schipper's part. Roger Lewis of London's (GB) Sunday Times wrote that Reeves was, "one of the top three Hamlets I have seen, for a simple reason: He is Hamlet."
From 2001 to 2020, MTC has hosted a Master Playwright Festival, featured the works of one notable international playwright, in productions by theatre companies from Winnipeg and elsewhere. In 2005 it presented TremblayFest, the first festival ever to showcase the work of Michel Tremblay. The 2020 featured playwright was Shakespeare. MTC also hosts the annual Winnipeg Fringe Theatre Festival.
In 2009, the Government of Canada designated the theatre a National Historic Site and, in 2010, Queen Elizabeth granted the theatre a royal designation. It is now officially named the Royal Manitoba Theatre Centre, although it still uses the abbreviation "MTC."
Among sources: Ned Seman, "Keanu, From Both Sides Now," Vanity Fair, New York, February, 2001
Website: www.mtc.mb.ca
Profile by Anne Nothof, Athabasca University
Last updated 2021-08-19