Reid, Fiona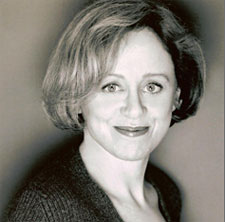 Fiona Reid
Ontario-based actor, born in Whitstable, Great Britain July 24, 1951, who has played lead roles in many of the major venues across Canada.
Her father was a British military doctor who travelled around the world before arriving in Canada in 1964. She studied at McGill University and Banff Centre for the Arts.
Among the many productions in which she has played major roles are Trojan Women (St. Lawrence Centre); The Seagull (Neptune Theatre); A Midsummer Night's Dream (Stratford Festival); Private Lives, Lady Windermere's Fan, Present Laughter, Hedda Gabler, The Charity That Began at Home, The Sea, The Divine: a Play for Sarah Bernhardt by Michel Marc Bouchard 2015 (Shaw Festival); Uncle Vanya (Tarragon Theatre); Jitters (National Arts Centre); Hayfever (Manitoba Theatre Centre); Tom Stoppard's Indian Ink (April, 2002) and Rock 'n' Roll (2009) at Canadian Stage; and Joanna McClelland Glass's Mrs. Dexter and Her Daily at Arts Club Theatre in 2010. At the Citadel Theatre, she has played in: The Philadelphia Story; The Importance of Being Earnest (April, 1999) as Lady Bracknell; The Constant Wife (2007), The Glass Menagerie (2010), August: Osage County (2011), all directed by Bob Baker; and God of Carnage (2012), dir. James MacDonald. For Soulpepper Theatre Company she starred in A Streetcar Named Desire directed by Diana Leblanc (July, 1999), and Entertaining Mr. Sloan dir. Brendan Healy (July 2013).
She has worked with the country's top directors including Derek Goldby, Robin Phillips, Christopher Newton, Alan Lund and Bill Glassco.
Fiona Reid also has a very successful television and film career. From 1974 to 1980 she played Cathy King in the CBC series King of Kensington.
She has twice won the Dora Mavor Moore award, for Fallen Angels at the St. Lawrence Centre in 1993, and for Six Degrees of Separation at Canadian Stage in 1995. In 2011, she won an Elizabeth Sterling Haynes Award (Sterling Award) for her role in August: Osage County at the Citadel Theatre.
In 2007, she became a Member of the Order of Canada. She was awarded an honorary degree from Bishop's University, and The Barbara Hamilton Award (2008). In 2011 she was awarded an ACTRA Award of Excellence.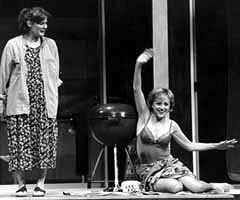 Fiona Reid (seated) with Monique Marcker in
Jim Guedo
's 1995 production of Terrence McNally's
Lips Together, Teeth Apart
at the
St. Lawrence Centre
She has an elegant, luminescent quality on stage and gives the spectator the sense that she is enjoying herself. She has said of her stage work, "If easy success was all I wanted, I could have stayed in television." And, "I could have been a 50 per center had I not been challenged by people who made me feel what I did was never enough."
Profile by Gaetan Charlebois. Additional information provided by Claire Sedore, Christopher Hoile, and Anne Nothof.
Last updated 2021-08-26