Shaw Festival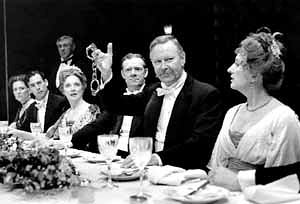 Shall We Join The Ladies
by JM Barrie, a 1996 hit for the Shaw Festival, directed by
Christopher Newton
Major international theatre festival in Niagara-on-the-Lake, Ontario, originally specializing in plays written by George Bernard Shaw and plays written during his lifetime (1856-1950).
The Festival was founded in 1962 by a group of Niagara-area residents led by lawyer and playwright Brian Doherty and philosophy professor, Calvin Rand. The first season, called "Salute to Shaw," consisted of two plays over eight performances: Candida and a reading of the Don Juan in Hell act of Man and Superman, staged in the Court House.
Andrew Allan was Artistic Director for the first full professional season in 1963 with four plays, each running a week: You Never Can Tell, Androcles and the Lion, How He Lied to Her Husband, and The Man of Destiny. The 1964 season featured two challenging Shaw plays: Heartbreak House and John Bull's Other Island; the 1965 season included Sean O'Casey's The Shadow of a Gunman by Sean O'Casey (starring and directed by Sean Mulcahy), already stretching the mandate of the fledgling Festival to include Shaw's contemporaries.
Barry Morse took over in 1966 for a year, drawing international attention to the company, and enticing strong acting talent, including Zoe Caldwell, Pat Galloway, and Tom Kneebone. His nine-week season consisted of: Man and Superman, Misalliance, and The Apple Cart.
The young British actor, Paxton Whitehead was artistic director from 1967 to 1977. He programmed one play by Shaw's contemporaries every season, including Noel Coward, J.M. Barrie, and Henrik Ibsen (Rosmersholm 1974). But, according to L.W. Conolly, he "blurred or ignored the mandate" of the Shaw Festival, and his propensity for farces and musicals resulted in the charge that he was mounting "lightweight" seasons. He favored a "star" system, importing actors from the U.S. and Britain for key roles, and he undertook many leading roles himself. Only one Canadian play was produced at the Shaw Festival while he was on a sabbatical leave--Leaven of Malice by Robertson Davies, directed by Tony van Bridge, which failed with the audience and with the critics. Whitehead resisted pressure from the Canada Council to produce any more Canadian plays. He did, however, introduce a fortuitous repertory system in 1973, running plays concurrently after staggered openings to encourage audiences to see more than one play over a short period of time, a system that is still in operation. He also introduced touring: Major Barbara played at Place des Arts in Montreal in 1967 during Expo celebrations, and then at the Manitoba Theatre Centre. He subsequently toured Shaw productions to Ottawa, Kingston, Toronto, Halifax, and in the U.S.
As the Festival grew, it became clear that the Court House Theatre was not adequate to the task. After an exhaustive and contentious search for a site, the proscenium arch Festival Theatre was constructed, with one balcony and 850 seats. It opened in on June 12,1973 with Shaw's You Never Can Tell. The Royal George Theatre, a former vaudeville theatre built in 1915, was purchased in 1980 and renovated in 1990 to include an orchestra pit and proscenium arch. In 2009, a fourth stage was added, the Studio Theatre, inaugurated with a production of The Entertainer by John Osborne. When the Court House Theatre was closed in 2017, because it failed to meet safety regulations, the Studio Theatre, named after Jackie Maxwell, assumed the role of the third stage. In 2018, its productions included a clever Canadian adaptation of Chekhov's The Cherry Orchard with a South-Asian farming family in the Okanagan, renamed The Orchard, by Sarena Parmar (dir. Ravi Jain, with dramaturgy by Guillermo Verdecchia).
In 1980, after three shaky years for the Festival, Christopher Newton took over as Artistic Director, with great success, and formed a quasi-ensemble of many of the country's great actors as well as some international stars. The 1996 season, for example, included 733 performances in three theatres over 28 weeks.
Jackie Maxwell became AD at the end of the 2002 season, and brought more Canadian plays, plays in translation, and plays by women to the Festival, including The Coronation Voyage (2003) and The Divine: a Play for Sarah Bernhardt (2015) by Michel Marc Bouchard; Blood Relations (dir. Eda Holmes, 2003) by Sharon Pollock; Waiting for the Parade by John Murrell (2004); and Belle Moral: A Natural History by Ann-Marie MacDonald (dir. Alisa Palmer 2005, 2008).
In 2016, British free-lance director, Tim Carroll, was appointed Artistic Director. He has broadened the mandate of the company even further with his 2017 productions of 1837: The Farmers' Revolt by Rick Salutin and 1979 by Michael Healey, two "political plays" set in Canada that share Shaw's provocative exploration of society and celebration of humanity. The 2018 season featured only three one-act plays by Shaw, and Canadian re-imaginings of The Cherry Orchard and Henry V.
The Shaw Festival produces ten to twelve plays in repertory each season--from April until October, totalling more than 800 performances. Each of the ensemble of actors typically performs in two plays. There are over 600 people on the payroll, and 400 volunteers.
Among non-Shaw works the company has presented are: The Shadow of a Gunman (Sean O'Casey, 1965), The Circle (Somerset Maugham, 1967), The Guardsman (Ferenc Molnar, 1969), The Brass Butterfly (William Golding, 1973), Leaven of Malice (Robertson Davies, 1975), Marsh Hay(Merrill Denison, 1996), works by Feydeau, Noel Coward, Ben Tavers, Henrik Ibsen, Lennox Robinson, and many musicals.
Since its inception, over two thousand theatre artists have worked at the Shaw Festival, including: Elizabeth Asselstine, Michael Ball, Guy Bannerman, Domini Blythe, Norman Browning, Martha Burns, Alan Brodie, Nicola Cavendish, Susan Cox, Geraint Wyn Davies, Charlotte Dean, Philippa Domville, Sharry Flett, Derek Goldby, Patricia Hamilton, Peter Hartwell, Ereca Hassell, John Hirsch, Heath Lamberts, Kevin Lamotte, Sue LePage, Lee MacDougall, Seana McKenna, Jim Mezon, Joan Orenstein, Sarah Orenstein, Jennifer Phipps, Christina Poddubiuk, Cameron Porteous, Ian Prinsloo, Kate Reid, William Schmuck, Elizabeth Shepherd, Robert Thomson, Kelly Wolf, Goldie Semple, and Fiona Reid.
The Company's archives are at the L.W. Conolly Theatre Archives of the University of Guelph, Ontario. An archival collection on this subject is available at the Toronto Reference Library.
Further Reading: L.W. Conolly. The Shaw Festival: The First Fifty Years. Don Mills, Ontario: Oxford UP, 2011.
Website: www.shawfest.com
Last updated 2018-08-11