Denison, Merrill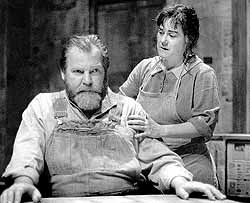 Playwright of realistic dramas and satire born in Detroit, Michigan, 1893, died in San Diego, California, 1975. He is considered to be one of Canada's first important 20th century playwrights.
He graduated from the University of Toronto, and then studied architecture in the US. In 1921, Roy Mitchell invited him to Hart House Theatre as a stage designer and art director.
His one-act play, Brothers in Arms was produced at Hart House Theatre in 1921, and went on to become one of the most often produced English-Canadian dramas. Set in the Ontario bush, it comprises a satiric debate between a pompous Major and an uneducated backwoodsman on war, industry and responsibility. It was published in the anthology The Unheroic North (Toronto: McClelland & Stewart, 1923), which also included one of his most important works, Marsh Hay. The latter was produced in 1974 and professionally at the Shaw Festival in 1996.
In 1932, Denison returned to the US to work for CBS and NBC in radio drama, and wrote stage and radio plays with an historical focus. His works for "The Romance of Canada" series, commissioned in 1929 by Canadian National Railways, were directed by Tyrone Guthrie. Six of these plays were published in the anthology, Henry Hudson and Other Plays (1931). For US networks, he wrote a forty-week series called "Great Moments in History" (1932-33), "America's Hour" (1936) and other programs which examined freedom and democracy.
After the death of his first wife, he returned to Canada in 1954, living in Montreal and on his estate with his second wife in eastern Ontario.
Source: Sister Geraldine Anthony. "Denison, Merrill," The Oxford Companion to Canadian Theatre. Toronto: Oxford UP, 1989.
Last updated 2016-03-21