Radio Drama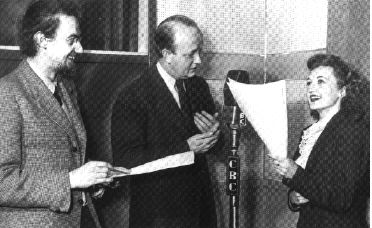 CBC and Radio-Canada have been instrumental in the creation and popularization of Canadian drama since the 1920s. National radio has kept Canadian theatre artists working and paid when they were often not paid for their theatre work, and worked with early theatre towards the creation of a national drama.
The first Canadian play to be broadcast in Canada was The Rosary (author unknown), out of Moncton's CNRA in 1925. In 1927, an anthology series (including some Canadian works) appeared at Vancouver's CNRV and lasted four years. The first series of made-in-Canada radio plays were twenty-four works on Canadian history written by Merrill Denison for CN Radio (the precursor to CBC) and broadcast 1931-32. In 1936 the CBC was officially born and its commitment to home-grown drama was unfailing. Not only was drama broadcast nationally, but regional studios were producing works by authors of their own. The radio was also exposing Canadians to works that would become mainstays of the nation's theatre, such as Still Stands the House.
Andrew Allan was appointed CBC's national drama supervisor in 1943, and a Golden Age began. His Stage series featured Canadian drama alongside the classics. That same year CBC Wednesday Night was born and also featured some Canadian drama. Producer Esse Ljungh was a champion of Canadian writers (and encouraged them to adapt a wide variety of works). Writers who worked at the CBC included Len Peterson, Mavor Moore, W.O. Mitchell and Lister Sinclair.
In French-language radio, serials were extremely popular from the début of the first one L'Auberge des chercheurs d'or on CKAC, Montreal 1935-38. From the beginning of the 40s to the beginning of the 60s, there were ten to fifteen serials a day on Quebec radio. There was also comedy, drama and episodic and historical drama by writers already involved or who would be involved in theatre like Marcel Dubé, Jacques Languirand, Marie-Claire Blais and Félix Leclerc. Actual plays were never as popular in French as were the serials, and with the coming of television, drama faded on francophone radio.
Things did not obviously slow down at CBC radio, however, until the mid-60s. Series have come and gone such as: Stereo Theatre, Vanishing Point, Morningside, Sunday Matinee and Théâtre de lundi.
Canadian writers across the country, like Pan Bouyoucas, Rachel Wyatt, Colleen Curran, Djanet Sears, and Mark Leiren-Young (Dim Sum Diaries) have found work in the medium. However, with each cutback at CBC/Radio-Canada, the life of radio drama has declined, with regional drama offices closing each time.
In 2006, CBC Executive Producer James Roy commissioned a four-part series on Canada's involvement in the war in Afghanistan, entitled Afghanada. Because of its popularity, it was continuously renewed, producing over 100 episodes until the end of 2011, and receiving critical acclaim and several awards. Scripts were collaboratively created by playwrights Jason Sherman, Adam Pettle, Andrew Moodie, and Greg Nelson, and several guest writers, including Emil Sher, Dave Carley, and Hannah Moscovitch (Episode 102, 2011). James Roy produced the plays in the first season, and Gregory J. Sinclair was producer for the rest of the series. Directors included Bill Lane and Chris Abraham. Three main characters "on the ground" take turns narrating the episodes: two young male privates and a female sergeant. The series' objective was to be apolitical, realistic and educational. However, according to an article on the series by Lindsay Thistle, the soldiers necessarily enact the political, ethical and moral concerns of the mission (TRIC 37.1 (2016): 102.
In Edmonton Alberta, CKUA Radio commissioned and broadcast historical drama series by Elsie Park Gowan and Gwen Pharis Ringwood in the 1930s and 40s. From 1984-96 CKUA produced Theatre of the Air a weekly program featuring classic plays adapted for radio by the BBC, and 23 new Canadian plays by playwrights such as Vern Thiessen (The Courier); Conni Massing (Gravel Run); Robert Clinton (The Hometown Boy); Margaret Hollingsworth (The House That Jack Built); Lyle Victor Albert (The Prairie Church of Buster Galloway); David Belke (The Maltese Bodkin); Joan MacLeod (The Hope Slide); Greg Nelson (Castratro); Raymond Storey (The Saints and Apostles); and Stewart Lemoine (Shockers Delight!). Theatre of the Air was hosted by Anne Nothof, English Professor at Athabasca University.
The future of Canadian radio drama may be on the internet, as Ian McWilliams points out in his article on "Saskatchewan Radio Audio Drama" in Canadian Theatre Review 154 (Spring 2013): 50-54. He cites an enthusiastic blogger to make the case that the end of CBC production offers "an enormously exciting opportunity for the rebirth of the unique art form of radio drama as well as the opportunity for freelancers to once again step up to the (aural) plate and resume doing what we do best: telling stories about ourselves, to ourselves. By doing so we will again become world class at it. Not because that is our goal, but because I believe radio drama is programmed into our country's creative DNA. What other form of theatre can instantaneously transverse this vast nation and reach its geographically scattered audiences so readily, so imaginatively, and so meaningfully?"
Indeed, in 2018, the CBC created "PlayMe" digital theatre: on-line podcasts of Canadian plays from across Canada (Artistic Directors Laura Mullin and Chris Tolley). In the summer of 2020, when the Covid-19 pandemic had closed down live theatre spaces, "PlayMe" produced the series entitled "Quarantine Chronicles" which featured new short plays by Erin Shields (Home School), Kat Sandler (Blue Rare), Rosamund Small and Nicolas Billon (Saving Grace), Hiro Kanagawa (Mizuko (Water Baby), Jordan Tannahill (Raking Light), and Mark Crawford (Don't Get Me Startered), with actors at a distance from across Canada participating in the productions. The series entitled The Show Must Go On featured audio versions of plays that had been cancelled in live theatres because of the pandemic, including Sir John A: Acts of a Gentrified Ojibway Rebellion by Drew Hayden Taylor, originally scheduled for production at Native Earth Performing Arts.
Readings: Alice Frick. Image in the Mind: CBC Radio Drama, 1944 to 1954. Toronto: Canadian Stage and Arts, 1987.
Sharon Blanchard. The Radio Drama Productions of Esse W. Ljungh (Thesis), September, 1981.
Anne Nothof. "Canadian Radio Drama in English: Prick Up Your Ears," Theatre History in Canada 11.1 (Spring 1990): 59-70.
Source: Ian McWilliams. "Saskatchewan (Radio) Audio Drama," Canadian Theatre Review 154 (Spring 2013): 50-54.
Profile by Gaetan Charlebois and Anne Nothof. Additional information from Lindsay Thistle. "Investigating Afghanada: Situating the CBC Radio Drama in the Context and Politics of Canada and the War on Terror," Theatre Research in Canada 37.1 (2016).
Last updated 2021-08-24