Hollingsworth, Margaret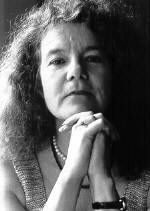 Margaret Hollingsworth
Playwright, novelist, essayist, born in Sheffield England in 1942, and grew up in London. She taught in Italy and Japan, and worked as a journalist, librarian, and actor before immigrating to Fort William, Ontario, where she was chief librarian in 1968. She received a B.A. in psychology at Lakehead University and an M.F.A in theatre and creative writing at the University of British Columbia in 1974. Since that time, she has worked as a freelance writer and teacher.
Her full-length plays include: Mother Country (Tarragon Theatre 1980); Ever Loving (Belfry Theatre 1980); War Babies (Belfry 1984), Blowing Up Toads (Alberta Theatre Projects playRites Festival 1996); In Confidence (Firehall Theatre, Vancouver 1994).
Her short plays include: Bushed (Vancouver Playhouse 1973); Operators (New Play Centre - now Playwrights Theatre Centre 1974); and Alli Alli Oh (1979). Apple in the Eye, Diving, and Islands (New Play Centre) were published with Ever Loving and War Babies in Willful Acts (Toronto: Coach House Books, 1986). The House that Jack Built, It's Only Hot for Two Months in Kapuskasing, Poppycock, and Prim and Duck, Mama and Frank were published in Endangered Species (Toronto: Act One, 1988).
Her stage and radio plays have been produced across Canada and on all five continents.
Hollingsworth has published a collections of short stories, entitled Smiling Under Water (1981). Her novel, Be Quiet (2003) is an imagined and self-referential portrait of Emily Carr, which mirrors Carr and a contemporary Canadian woman painter: both are marginalized by age and behaviour, and both are driven to express the "areness" of life through art.
A member of PEN, she has been deeply involved in the politics of writing over the past twenty years. She has served on the executive of the Playwright's Union and on the Public Lending Rights Commission. She was one of the organizers of the Second International Women Playwrights Conference in 1991 and is very active in promoting women's writing.
She was been awarded ACTRA, Jessie Richardson Awards and Chalmers Awards for drama; and has been playwright-in-residence at the Stratford Festival, Concordia University, and the University of Western Ontario. From 1992 to 2002 she was an Associate Professor at the University of Victoria, and she is now Professor Emeritus. She currently resides in Toronto, where she is writing a new play.
Her plays are an exploration of "home" from the point of view of a self-perceived outsider. As an immigrant and a woman, she feels double marginalized, since typically it is men who determine the domestic space, and women must accommodate themselves to this space. Hollingsworth maintains that in all of her plays the women are searching for a physical and psychological "home," a place of safety and familiarity – "limits, acceptance, love – a barrier against the outside world." But she does not see them as victims, since they are actively defining this place in their imaginations and their actions. They may also be escaping restrictive or dangerous spaces. Her plays often explore the dysfunctional dynamics of family and the claustrophobic territory they share: "what happens when you violate someone's space."
Hollingsworth sees her plays as working through indirection and allusion: "the disturbance stays under the water, half understood by the characters and the audience – perceived but not always in a way that can be readily articulated." Nor is she particularly interested in resolutions: "The major function of theatre is to challenge and disturb."
In Ever Loving three women who emigrate to Canada from Scotland, England and Italy after the Second World War, attempt to make a life with husbands they hardly know in an alien country. The shifting focus in the play from one couple to another, and from one time period to another provides an insight into their different social contexts, while showing their similar aspirations for an opportunity to realize their ambitions and dreams in country which is still in many respects a British colony – a land of wilderness and prairie, fog and fish.
Website: www.margarethollingsworth.com
Further reading:
Yvonne Hodkinson. Female Parts: The Art and Politics of Women Playwrights. Montreal: Black Rose Books, 1991.
Judith Rudakoff and Rita Much. Fair Play – 12 Women Speak: Conversations with Canadian Playwrights. Toronto: Simon & Pierre, 1991.
Robert Wallace and Cynthia Zimmerman. The Work: Conversations with English-Canadian Playwrights. Toronto: Coach House Press, 1982.
Profile by Anne Nothof
Last updated 2021-01-28