Gowan, Elsie Park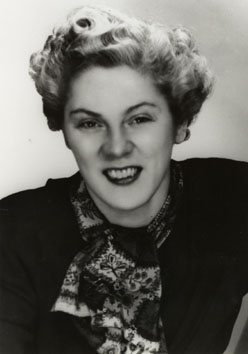 Elsie Park Gowan. (UAA 79-51-66)
Playwright, actor, educator, born 1905 (née Young) in Scotland, died 1999. She came to Edmonton, Alberta with her family in 1912, obtained a teaching certificate from Camrose Normal School in 1922, and taught in rural schools between 1922 and 1926. Her stage play, The Hungry Spirit, is loosely based on her own experience as a young teacher with a desperate need to improve her own education. Gowan then studied history at the University of Alberta, where she was president of the Dramatic Society and the Literary Society, and women's editor for the student newspaper, The Gateway. She also acted in several plays directed by Elizabeth Sterling Haynes, including James Barrie's Shall We Join the Ladies?, which represented Edmonton in the first Alberta Drama League Festival in 1930. She graduated in 1930 with a BA in History.
Between 1930 and 1958 she was active in the Edmonton Little Theatre, and acted in roles for the University of Alberta's Department of Drama from its inception in 1946, including G.B. Shaw's Caesar and Cleopatra in 1955.
Following her marriage to physics professor, Dr. Edward Hunter Gowan, she turned her attention to writing – primarily of one-act plays. Her first three plays, Homestead (1932), The Giant Killer (1932), and The Royal Touch (1934) won awards in the Carnegie Foundation playwriting competitions. The University of Alberta Dramatic Club entered God Made the Country in the Alberta Regional Dominion Drama Festival, and it was subsequently produced at the Grand Theatre in Calgary in 1935. This play reflects Gowan's preoccupation with the plight of isolated rural women, who struggle to survive in constrictive marriages and restrictive environments. Her protagonist, Freda, feels "chained to a homestead like a dumb beast, with weeds and wind and hail killing everything you'd hoped for." The Giant Killer is a strong statement against war; The Royal Touch considers the role of the monarchy; A Toss For Father deals with bigamy; Back to the Kitchen, Woman! anticipates women's liberation; One Who Looks at the Stars (1946) portrays an inter-racial marriage; Breeches from Bond Street (1949) portrays the fate of a mail-order bride in southern Alberta. Her three-act comedy, The Last Caveman premiered at the Edmonton Little Theatre in 1938 and in 1946-47 was toured by the western professional company, Everyman Theatre, under the direction of Sydney Risk. It depicts the hardships encountered in Alberta by a family lured to Canada by CPR propaganda in the early 1920s.
With limited opportunities for stage production, Gowan began to write extensively for radio, including two historical series co-written with her friend, Gwen Pharis Ringwood: New Lamps for Old (1936-37), and The Building of Canada, commissioned by the University of Alberta radio station, CKUA. Both series were later broadcast nationally by the CBC. Between 1939 and 1958, Gowan wrote about 250 radio scripts, some for CBC radio producers Andrew Allan and Esse Ljungh. Her five scripts for the 1943 NBC Inter-American University of the Air "Lands of the Free" series were heard via short wave in South America, and two were aired by the Australian Broadcasting Commission. Her series, "The Barlows of Beaver Street" was broadcast in the CBC International Service to Britain and the Caribbean. Her historical dramas are typically structured around a family: in the 1943 19-part series, "These Are My Neighbours," she addressed social issues that are still with us: single-parent families, uprooted young people, shifts in employment patterns, working mothers, dependent old age.
Gowan also wrote historical pageants for celebrations in Edmonton and Jasper: Who Builds a City (1954), The Jasper Story (1956), Portrait of Alberta (1956), and A Treaty for the Plains (1977). Their common uplifting theme is the realization of personal and community dreams through a united spirit in a frontier environment.
She was awarded an honorary doctorate from the University of Alberta in 1982 for her work as a teacher, historian, and playwright, and inducted into the Edmonton Hall of Fame in 1993.
Sources: Moira Day. The Hungry Spirit: Selected Plays and Prose by Elsie Park Gowan. Edmonton: NeWest Press, 1992.
Anton Wagner. "Elsie Park Gowan: Distinctively Canadian," Theatre History in Canada 8.1 (Spring 1987): 68-82.
Further Reading: Anne Nothof. "Making Community History: The Radio Plays of Ringwood and Gowan," Edmonton: The Life of a City. Eds. Bob Hesketh and Frances Swyripa. Edmonton: NeWest, 1995.
Profile by Anne Nothof, Athabasca University
Last updated 2010-12-06