Allan, Andrew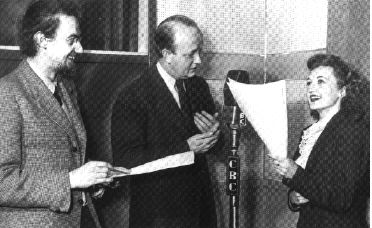 Radio Drama producer, instrumental in creating "The Golden Age of Radio Drama" in Canada, which enabled many other careers in acting and directing. Andrew Allan was born in Scotland in 1907, and came to Canada with his parents at the age of 17. Having worked as an actor, writer and producer, he soon saw radio as a way of disseminating drama to the broadest number of Canadians. He joined the CBC in Vancouver in 1942 and produced over 400 works until 1956, notably for the "Stage" series. Among the artists he worked with were Lister Sinclair, Jane Mallett, W.O. Mitchell, and Len Peterson. After attempting television, he returned to theatre as the first artistic director of the Shaw Festival and continued to write, act, and direct in radio and television until his death in 1974 in Toronto.
Writer N. Alice Frick, in preparing a book on Allan wrote, " [Allan] had an innate sense of timing, an essential gift. I mean that sense of timing that makes music or poetry or prose not just a string of notes or words, but a compound of thought and emotion that can make the spine and the mind tingle...Andrew taught me more than I knew I was learning, by expecting me to do it" (Image in the Mind: CBC Radio Drama, 1944 to 1954. Toronto: Canadian Stage and Arts, 1987).
Further reading: Knowlton Nash. Cue the Elephant!. Toronto: McClelland & Stewart, 1996. - for a vivid depiction of the early days of radio at CBC.
Profile by Gaetan Charlebois
Last updated 2013-07-22