Sinclair, Lister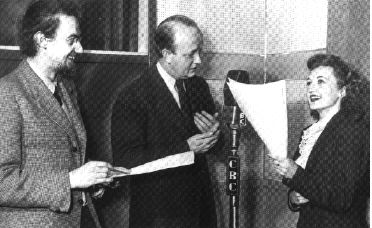 Lister Sinclair (l) with
Andrew Allan
and Alice Hill in a
CBC
radio
recording session (photo: National Archives)
Playwright born in Bombay, India, in 1921, died October 2006. He studied at the University of British Columbia and was mentored by Frederic Wood.
Mr. Sinclair was one of the first performed playwrights at the beginning of professional Canadian theatre in the late 1940s and early 50s. His plays were presented often at the Jupiter Theatre in Toronto. He also wrote for CBC radio, particularly for producer Andrew Allan, adapting or creating over 150 scripts. His work varied from satire to drama to docudrama. Critic Nathan Cohen called him, "...easily the foremost in Canada's array of postwar playwrights."
His theatre works include Socrates (1952), The Blood is Strong (1953), and The World of the Wonderful Dark (1958).
He is perhaps best known as the host of the CBC's radio program, Ideas, and was awarded the John Drainie Award for Contributions to Broadcasting.
Last updated 2013-07-29