Mitchell, W.O.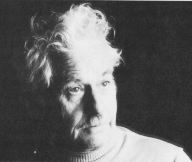 W.O. Mitchell
Playwright and fiction writer born in Weyburn, Saskatchewan in 1914, died February 25, 1998, W.O. Mitchel was one of Canada's best-known storytellers.
He studied at the University of Manitoba and the University of Alberta, and taught for several years before moving to High River and writing full-time. He has been writer-in-residence at several universities, including the University of Calgary and the University Windsor, and at Banff Centre for the Arts.
His collection of stories, Jake and the Kid was first published in Maclean's over two years, beginning in 1942. It was adapted as a CBC radio series (1950-56), and later for the stage (Rosebud Theatre 2011, dir. Morris Ertman).
W.O. Mitchell is probably best known for his first novel Who Has Seen the Wind? (1947), adapted for the stage in 2002 by Lee MacDougall and presented at Citadel Theatre. His other novels are The Kite (1962), The Vanishing Point (1973), How I Spent My Summer Holidays (1981), and Since Daisy Creek. He also wrote extensively for radio and television.
He was a Member of the Order of Canada and won the Chalmers Award for Back to Beulah (premiered at Theatre Calgary in 1976, directed by Guy Sprung and subsequently played in theatres across Canada). His other plays include: The Day Jake Made Her Rain (Alberta Theatre Projects 1976, ; The Black Bonspiel of Wullie MacCrimmon (Theatre Calgary, 1981, Rick McNair); The Kite (Theatre Calgary, 1981, McNair). In 1997, an anonymous donor created an award for writers in his honour.
Mitchell's writing is earthy, sometimes salty, usually hilarious (with a huge dose of ironic, homespun humour) and without pretension. Mitchell was also capable of giving magnificent public readings of his work.
Profile by Gaetan Charlebois. Additional information by Jerry Wasserman, Peter Neily and Anne Nothof.
Last updated 2020-03-11