Sher, Emil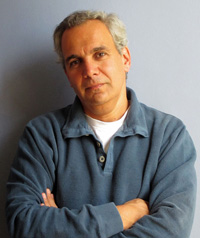 Emil Sher
Playwright, script writer, novelist and essayist, born in 1959, and raised in Montreal Quebec. He has a Masters degree in creative writing from McGill University, and is currently based in Toronto Ontario with his wife. Their two daughters live in Montreal.
His plays for young audiences, which raise trenchant social and moral questions, have been produced across Canada: Beneath the Banyan Tree (Theatre Direct 2004, dir. Lynda Hill) portrays through dance, music and words the challenges encountered by a young girl from India adjusting to life in Canada. In autumn 2009, Theatre Direct partnered with Theatre Hullabaloo, based in Darlington, England, for a tour of the play in Britain. Hana's Suitcase, adapted from the novel by Karen Levine (Lorraine Kimsa Theatre for Young People, now Young People's Theatre, 2006) examines the life and early death of Hana Brady, a victim of the holocaust, from the perspective of a Japanese school teacher and her students. Alia and the Book of Ashes, commissioned for Seattle Children's Theatre, tells the story of Alia Muhammad Baker, the chief librarian of the Central Library of Basra, who rescued 30,000 books when the library was threatened with destruction by American bombs in 2003.
Mourning Dove began as a commissioned radio drama for CBC's Morningside, first broadcast in 1996, and since then broadcast in the U.S., Britain, Australia, New Zealand, Hong Kong, and South Africa. Sher adapted it for the stage while he was playwright-in-residence at Necessary Angel (with AD Richard Rose). Mourning Dove premiered at Great Canadian Theatre Company in 2005, and is published by Playwrights Canada Press. It examines the highly contentious "mercy killing" of a severely disabled young girl by her father on a farm in Saskatchewan, portraying the victim only through an onstage empty wheelchair, and the sound of her breathing.
Sher's adaptation of Ian Brown's 2009 memoir, The Boy in the Moon: A Father's Search for His Disabled Son premiered at the Great Canadian Theatre Company in 2014. The parents represented in the play were very moved by his "respectful and gentle" interviewing, and "how careful everybody was to make sure that we were fairly represented" (Globe and Mail 13 May 17: R1).
His musical interpretation of The Hockey Sweater by Roch Carrier (music by Jonathan Monro) premiered at Segal Centre for Performing Arts in October 2017.
Emil Sher also writes for radio and was a regular script writer for the CBC radio drama series Afghanada.
Website: www.emilsher.com
Profile by Anne Nothof, Athabasca University
Last updated 2018-08-13