Segal Centre for Performing Arts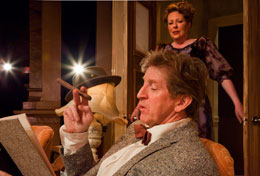 Harvey
with
RH Thomson
and Nora McLellan (Apr 2010)
Photo by Randy Cole, courtesy of Segal Centre for Performing Arts
Performing arts centre, based in Montreal Quebec, founded in 1967 as the Saidye Bronfman Centre, with funds from the Bronfman family. It functioned as a Jewish community centre and cultural resource for dance, theatre, and education to diverse communities.
In 2007 the Saidye Bronfman Centre was renamed the Segal Centre for Performing Arts in acknowledgement of the financial support of Leanor and Alvin Segal in partnership with the Bronfman family. Uniting theatre, music, dance, cinema and arts education under one roof, its mission is to promote the creation, production and presentation of professional artistic work, support emerging artists and foster intercultural understanding through the arts.
The Segal Theatre is now a world-class English-language theatre. It has expanded to become a nationally recognized venue for the performing arts with a focus on creation, innovation, diversity, and cross-cultural collaborations. Driven by a belief in the power of the arts to strengthen and connect communities, the Segal's programming emphasizes original interpretations of popular classics and contemporary works, new Canadian musicals, and engaging productions with universal appeal.
In 2008, the Segal Theatre co-produced the original musical Houdini with the Montreal Highlights Festival (dir. Bryna Wasserman). It was remounted later that year by the Montreal International Jazz Festival, the first play ever to be featured at the Festival. It was wildly successful with both French and English audiences as well as critics.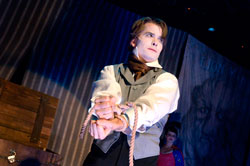 Houdini with Kevin Kraft
Photo by Randy Cole, courtesy of Segal Centre for Performing Arts
Other highlights include Sam Shepard's Buried Child (2009) which was co-produced with the National Arts Centre (NAC) and directed by Peter Hinton, Artistic Director of English Theatre at the NAC. Old Wicked Songs (2010, dir. Bryna Wasserman) by Jon Marans was co-produced with Théâtre du Rideau Vert and played in French as Une musique inquiétante before the original cast and crew moved to the Segal to perform the production in English.
The Segal Centre has become a major player in the development and production of new Canadian musicals. In June 2015, the Centre premiered Belles Soeurs: The Musical based on the play by Michel Tremblay with book and lyrics by René Richard Cyr, music by Daniel Bélanger, English adaptation of book and lyrics by Neil Bartram and Brian Hill, and directed by René Richard Cyr. A co-production with Copa de Oro, Belles Soeurs went on a national tour and won the Capital Critics Circle Award for Best Production after its stop at the National Arts Centre in Ottawa.
In June, 2015, the Segal Centre launched a world premiere of a musical adaptation of Mordecai Richler's novel, The Apprenticeship of Duddy Kravitz, with book and lyrics by David Spencer, music by Alan Menken, directed by Austin Pendleton, starring Alberta-born Kenneth James Stewart as the infamous Duddy, who follows his grandfather's advice to own some land, regardless of the personal consequences. An original cast recording was released on Sh-k-boom and Ghostlights Records on December 2, 2016.
In October 2016, the Segal Centre premiered Prom Queen: The Musical based on the true story of Marc Hall, the Ontario teenager who took his Catholic School Board to court when it refused to let him attend prom with his boyfriend. Produced by Marcia Kash with book by Kent Staines, lyrics by Akiva Romer-Segal, music by Colleen Dauncey, musical direction by Mark Camilleri, choreography by Sean Cheesman, Prom Queen: The Musical won the Playwrights Guild of Canada's Stage West Pechet Family Musical Award at the Tom Hendry Awards in 2016.
Emil Sher's musical adaptation of Roch Carrier's beloved story The Hockey Sweater, with music and lyrics by Jonathan Monro, was launched in 2017 as part of the official program of Montreal's 375th anniversary celebrations.
The Segal Centre is also an artistic resource and hub for Montreal's diverse theatre community of independent and emerging artists to create explore and grow. Its second stage, The Studio, has been a venue for SideMart Theatrical Grocery; the Power Jazz series; and the Segal's popular Broadway Café events, as well as guest programming.
In addition, the Segal Centre for Performing Arts houses the world-renowned Dora Wasserman Yiddish Theatre, celebrating almost sixty years of dramatizing the Jewish experience.
The current Artistic Director is Lisa Rubin.
Website: www.segalcentre.org
Last updated 2021-09-24